Scotland's Economy
This week: 01/03/19
March 1, 2019 by charlottebarbour No Comments | Category Economy, innovation
Fair Work Action Plan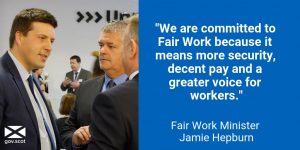 A range of measures to support employers to embed fairer working practices have been set out in a new Fair Work Action Plan.
Business and Fair Work Minister Jamie Hepburn said the action plan includes a commitment to a new benchmarking tool to help employers assess their current practices and to provide guidance on how to make their workplaces fairer.
Scottish Business Pledge
Jamie Hepburn has also launched a refreshed Scottish Business Pledge that is more clearly aligned to Fair Work principles.
Scottish National Investment Bank Bill published
Legislation to support the establishment and capitalisation of the Scottish National Investment Bank has been published by the Scottish Parliament.
The Bill grants the necessary powers to set up the Bank which will provide financing for businesses through their whole life cycle and for important infrastructure projects to catalyse private sector investment. The Bank will be a public limited company and Ministers will be given the power to guide its strategic direction by setting missions that will address socio-economic challenges.</>
Brexit
Economy Secretary Derek Mackay attended a meeting of the Scottish Enterprise Brexit Response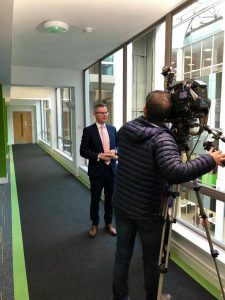 Steering Group to hear about what steps are being taken to help prepare business for the impact of Brexit.
Mr Mackay has also warned businesses that Brexit is already impacting on businesses and economic investment.
Addressing leading industry experts at the Edinburgh Chamber of Commerce Annual Dinner, Derek Mackay said many small and medium sized businesses remained unprepared to deal with the consequences of Brexit and urged all businesses to engage with the Prepare for Brexit campaign, which offers practical business support and access to grants. 
FUTUREquipped
Innovation Minister Ivan McKee spoke at the FUTUREquipped project, where he heard the positive outcomes that have been achieved for the College sector through the College Innovation Fund.
Digital Champions
Digital Economy Minister Kate Forbes spoke to the next participating cohort of the Digital Champions programme . The programme aims to engage public sector leaders with how digital technology can help transform public services.
Tags: Brexit, digital, fairwork
Comments