Scotland's Economy
This week: 08/03/19
March 8, 2019 by charlottebarbour No Comments | Category Economy, Employment, International Women's Day
Women in the economy
Tackling the gender gap in enterprise is an economic and moral imperative for the Scottish Government, and we have taken various measures to support more women to set up and succeed in business.
Actions have seen the proportion of women actively starting a business in Scotland catching-up to the UK average and the gender gap in business start-ups reduced at a time when it has increased across the rest of the UK. 
Digital Economy Minister Kate Forbes wrote a blog for International Women's Day in which she outlines the importance of more women joining the tech industry in particular.
Scottish Apprenticeship Week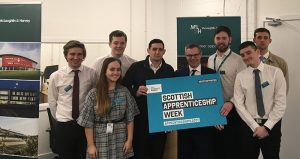 Modern Apprentices have a key role to play in Scotland's economic development and youth employment. Scottish Apprenticeship Week is a celebration of the success of all those involved with Scotland's Modern Apprenticeships.
To kick the week off on 4 March, First Minister Nicola Sturgeon visited Forth Valley College to meet with the college's record number of female engineers, while Economy Secretary Derek Mackay met apprentices at the Buchanan Wharf development and the University of Glasgow.
International Investment
F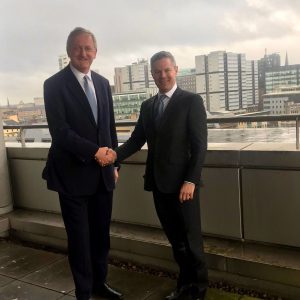 inance and Economy Secretary Derek Mackay met with Lord Mayor of London to discuss Scotland's attractiveness for international investment and how the City of London and Scotland can work together to drive Financial and Business services.
UK's first Living Wage City
Fair Work Minister Jamie Hepburn has welcomed the news that Dundee has the ambition to become the UK's first Living Wage City.
BiFab
Underlining the Scottish Government's commitment to developing our renewables sector, Energy Minister Paul Wheelhouse visited the BiFab yard in Arnish to announce the company's latest contract.
Family Friendly Working Scotland
Fair Work Minister Jamie Hepburn announced £159,000 Scottish Government funding today to help promote a flexible, family-friendly working culture which aligns business success with a balanced work and family life.
Modern Apprentice Target
More than 29,000 people will benefit from Modern Apprenticeship opportunities next year in a continued effort to support youth employment, Fair Work Minister Jamie Hepburn announced.  The 29,000 target includes Modern and Graduate Apprenticeships and puts Scotland on course to reach a longstanding commitment to 30,000 new apprenticeship starts each year by 2020.
Comments