Scotland's Economy
Welcoming International Women's Day
March 8, 2019 by Kate Forbes MSP No Comments | Category Economy, Employment, International Women's Day
Today is International Women's Day. It's also the last day of Scottish Apprenticeship Week. Although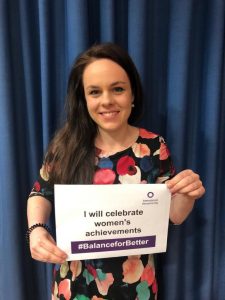 very different in scale and theme, both events share an overarching theme: creating and celebrating opportunity.
The opportunity I want to focus on during this important day, both as a woman but also as the Digital Economy Minister for Scotland, is the growing number of females joining our thriving digital tech industry. Our digital sector contributes around £5.25 billion to the Scottish economy, and is forecast to be the fastest growing sector in Scotland by 2024. Although it already supports more than 100,000 jobs in Scotland, we still need a further 13,000 new entrants every year just to stand still, never mind grow the sector.
Although female representation within the sector has grown from 18% to 23% in the last two years, it is clear more needs to be done to address this gender imbalance and in turn fill these vital jobs.
So what are we doing to maintain this positive momentum?
Since 2015, the Scottish Government, along with our partners, including Skills Development Scotland and the Scottish Funding Council, have been working in partnership with industry – in particular with the Gender Action Group – to tackle the perception that digital and IT jobs are not for girls.
There have been many actions undertaken during this time to support  this ambition. This includes getting into schools and engaging with girls at an early age to show them that computing science, coding and gaming are exciting and relevant careers, regardless of your gender.
We have also taken measures to develop the school curriculum to extend the reach of digital skills into subjects popular with girls such as Art, English, Languages and Music. We're continuing to promote female role models and mentors into higher and further education.
And as this is Scottish Apprenticeship Week, let's not forget about the launch of the Foundation Apprenticeships in Hardware, Software and Creative & Digital, and the Graduate Apprenticeships in Cyber Security and Software Development.
Our very own Digital Strategy focuses on our vision for Scotland as a vibrant, inclusive, open and outward-looking digital nation.
But it is more than a vision. It has concrete measures we are taking to anchor digital in everything we do. We recognise that digital should always be part of something bigger. It should enable inclusive economic growth, reform our public services, empower our communities and tackle inequalities. Indeed, our Digital Directorate teams are working hard across all these areas and more to deliver our ambition for a digital Scotland.
But all of that will only happen when gender imbalance and its connected challenges cease to be an issue. The fact is that everyone, not just the government, has a role to play in developing our digital workforce, and in getting more women into tech –  either as employers, influencers, mentors, parents or friends.
This is why I personally think that every day needs to be women's day in the tech sector, at least until we get to a place where conversations and actions around equality are no longer required.
Tags: apprentices, employment, internationalwomensday, iwd, iwd2019, scottisheconomy, skills
Comments