Scotland's Economy
This week: 29/3/19
March 29, 2019 by charlottebarbour No Comments | Category Brexit, Business, Economy
Research and Development statistics
Record amounts are being spent on research and development, according to the latest Scottish Government statistics.
Gross Expenditure on Research and Development (GERD) in 2017, one of the key measures of innovation, saw around £2.5 billion spent, predominately by businesses and higher education institutions.
Read more about Research and Development spend
Fairer Scotland for Disabled People debate
Business, Fair Work and Skills Minister Jamie Hepburn led a debate in the Scottish parliament to discuss how to build on Scotland's fair work practices.
Western Isles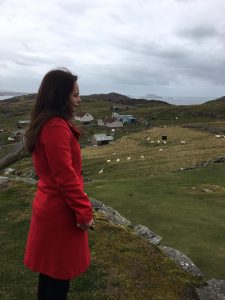 Public Finance and Digital Economy Minister Kate Forbes undertook a series of visits to the Western Isles this week. The trip was an opportunity to engage with citizens, some of whom are engaged in the private and public sectors on matters ranging from digital and finance to community empowerment.
Ms Forbes' visits included meeting a crofter in the Isle of Lewis who has been awarded funding from the Scottish Government's Croft House Grant to build his own Crofthouse. The scheme helps to attract and retain people in Scotland's crofting areas by improving housing standards.
She also visited Stornoway Port Authority to discuss development plans as the Port announces the award of a contract for the new marina.
Renewable electricity
Renewable electricity generation in Scotland reached record levels in 2018.
The equivalent of 74.6% of gross electricity consumption was from renewable sources (26,708 GWh). This output of electricity is the equivalent of powering all households in Scotland for more than two-and-a-half years.
Read more about renewable energy
Banking and Economy Forum
Economy Secretary Derek Mackay hosted the forum to discuss what support banks can offer businesses to deal with the impact of an EU exit.
New railway
A programme of proposed railway projects aimed at sustaining investment in Scotland's Railway has been unveiled at an industry event .
The Rail North of Border Conference saw almost 300 rail experts, including the supply chain, gather in Glasgow to look ahead to the next.
Read more about Scotland's Railway
Tags: economy, fairerscotland, researchanddevelopment, scotlandseconomy, space
Comments