Scotland's Economy
This week: 03/05/19
May 3, 2019 by charlottebarbour No Comments | Category Economy, Employment
New export growth plan launched
The Scottish Government has launched 'A Trading Nation', an export plan backed by £20 million investment, to help increase the value of Scotland's overseas exports and provide support to businesses considering overseas trade.
First Minister Nicola Sturgeon launched the plan at the 22nd National Economic Forum in Edinburgh alongside Economy Secretary Derek Mackay and Trade Minister Ivan McKee.
Read more about the new export plan
Funding for brain cancer-detecting blood test
A University of Strathclyde spinout company, ClinSpec Diagnostics Limited, is developing a pioneering new blood test for the early detection of brain cancer.
During a visit to the company, Business Minister Jamie Hepburn said: "I'm pleased to visit ClinSpec Dx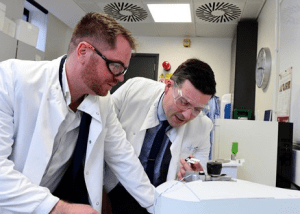 today to announce the £600,000 of funding from Scottish Enterprise that supported their spin-out from the University of Strathclyde and development of an innovative new blood test for brain cancer.
"The blood test demonstrates significant advancements in cancer detection methods, and will play a vital role in helping to save lives. This technology also paves the way for similar blood tests to be developed in the future for other diseases.
"By supporting this promising university spin-out, the Scottish Government is helping to translate key research outputs into practical medical innovations."
Future Skills Employers Forum
Public Finance and Digital Economy Minister Kate Forbes spoke at the Future Skills Employers Forum in Dundee to highlight the importance of digital skills in helping Scotland's technology businesses drive the economy forward.
Offshore Wind Summit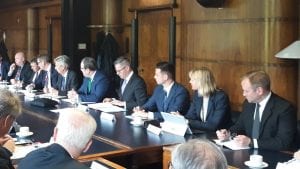 Trades unions, offshore wind developers and supply chain companies have agreed to take urgent action to ensure more Scottish companies benefit from the awarding of contracts for offshore wind projects.
At a summit held this week by Finance Secretary Derek Mackay and Energy Minister Paul Wheelhouse, the industry representatives agreed that collective action was needed to ensure supply chain companies are well positioned to benefit from upcoming offshore wind projects.
The Scottish Government is exploring the options open for attaching supply chain conditions and incentives to Crown Estate Scotland leases as well as ways in which the Scottish Parliament reviews and approves decommissioning plans.
Read more about the offshore wind summit
Calero
Innovation Minister Ivan McKee opened the new European Headquarters of telecommunications company Calero Software Ltd in Edinburgh. He said:
"It's an honour to welcome Calero's European headquarters to Edinburgh. The decision by Calero to lead its European operations from here is testament to Edinburgh, and Scotland, that is fast becoming known worldwide for its vibrant technology scene. The Scottish Government has published an ambitious plan to boost international exports and I am delighted that in Calero, we have added another important exporter to our economy, an encouraging marker for economic development in Scotland."
Tags: calero, exportgrowth, exports, offshorewind, scottishexports
Comments