Scotland's Economy
This week: 10/05/19
May 10, 2019 by charlottebarbour No Comments | Category Economy
Labour Productivity Statistics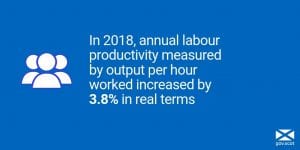 The latest labour productivity statistics were released and show Scotland is performing well.
Key figures included:
In 2018 Quarter 4, labour productivity in Scotland, measured by output per hour worked, has increased by 2.3% in real terms (inflation adjusted) compared to the same quarter last year
Compared to the previous quarter, labour productivity is estimated to have grown by 0.5% in 2018 Quarter 4, following zero growth (0.0%) in the previous quarter
In 2018, annual labour productivity increased by 3.8% compared to 2017
Read more about labour productivity statistics
Research and development software funding
This week Ministers announced that 40 jobs would be created at Cherwell Software in Dundee, following a £3.1 million research and development grant from Scottish Enterprise.
The move underlines the Scottish Government's commitment to investing in research and development to help grow Scotland's economy and ensure we are at the forefront of future technologies.
Read more about the R&D funding for Cherwell
Launch of nation-wide schools programme
Skills Minister Jamie Hepburn has welcomed plans from Scottish Financial Enterprise to launch Scotland's first nation-wide schools programme for financial services in partnership with Skills Development Scotland and DYW Scot.
Find out more about the nation-wide schools programme
Scottish stock exchange
Business Minister Jamie Hepburn has welcomed the news that a project to launch Scotland's new stock exchange has secured £750,000 of Scottish Enterprise funding, creating 45 high-skilled jobs in Edinburgh, Glasgow and Aberdeen.
Read more about the Scottish stock exchange
Opening of Space Technology laboratory
Innovation Minister Ivan McKee opened the new Integrated Space and Exploration Technology Laboratory at Glasgow University.
The lab is part of the University's Space Glasgow network, which brings together engineers, physicists, geologists, mathematicians and computer scientists on cross-disciplinary space research projects.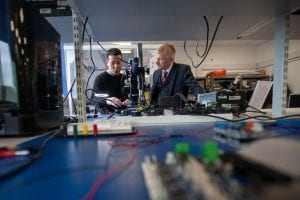 Mr McKee met researchers from the University's School of Engineering to hear more about their work in five key areas: access to space, space technologies, orbital dynamics, landing technologies, and surface and subsurface exploration. He said:
"Scotland already has an innovative and diverse engineering base, with world-class companies competing in international markets.  As a country already punching above its weight in the space sector, we are in a great place to consolidate these existing strengths to inspire skills development and STEM take-up.
"This new lab will play a vital role to support the development of the sector in Scotland and I am pleased to see the University of Glasgow supporting these ambitions by providing exciting new opportunities for their students."
Read more about the technology laboratory
Rail freight fund announced
The Scottish rail freight is set to benefit from up to £25 million of ring-fenced funds to help strengthen the industry over the next five years.
The Scottish Government commitment was announced by Transport Secretary Michael Matheson during a visit to the Freightliner Terminal in Coatbridge.
Read more about the freight fund
The future of Air Departure Tax
This week Ministers announced that following updated advice from the UK Committee on Climate Change – and the new 2045 target for net-zero emissions adopted as a result – reducing Air Departure Tax is no longer compatible with Scotland's new emissions reduction targets.
The Scottish Government welcomes the efforts of Scotland's tourism sector and aviation industry to reduce carbon emissions and will continue work with them to support the sector in a sustainable way.
Tags: economy, labourproductivity, scottisheconomy, scottishstockexchange, spacetechnology
Comments