Scotland's Economy
This week: 17/5/19
May 17, 2019 by charlottebarbour No Comments | Category Economy
Labour Market Statistics
This month's labour market statistics update, released by the ONS for January 2019 to March 2019, showed that the Scottish economy and jobs market continues to strengthen. The update showed:
2,682,000 people are now in work in Scotland
Unemployment in Scotland fell to 3.2%, the lowest rate on record
Scotland's female employment rate is 72.0%, higher than UK rate of 71.8%
Scotland's youth employment rate is 59.3%, higher than UK rate of 54.6%
The unemployment rate for Scotland's young people (6.6%) is at a record low
The unemployment rate in Scotland (3.2%) is lower than the UK as a whole (3.8%) for the eighth month in a row
Read more about the latest Labour Market Statistics
Soar funding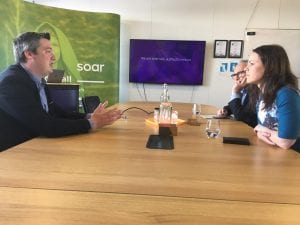 Public Finance and Digital Economy Minister Kate Forbes visited software development company Soar to announce £450,000 of research and development funding from Scottish Enterprise to support Soar's ambitious plans to develop an innovative platform for Credit Unions.
High Growth Spin Out funding
The Natantis team at Heriot Watt University have received a £574,500 High Growth Spin Out Grant from Scottish Enterprise for the development of a cartridge to extract cell-free nucleic acid samples from blood for use in cancer and pre-natal screening.
Public Finance and Digital Economy Minister Kate Forbes announced the funding during a visit to the University.
Consumer advice service launched
Business Minister Jamie Hepburn launched a new online and telephone consumer advice service which is backed by £600,000 of Scottish Government funding.
Find out more about the service
Digital Skills Group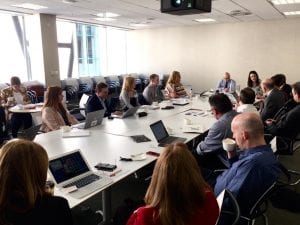 Digital Economy Minister Kate Forbes co-chaired the Digital Skills Group quarterly meeting to share her future ambitions for Scotland's digital economy and skills landscape, and outline the importance of digital skills in helping technology businesses drive the economy forward.
Teclan
Digital Economy Minister Kate Forbes opened the new offices of digital marketing agency Teclan in Inverness, and heard about the company's future plans as they celebrate their 20th anniversary.
E-bike support
A third round of funding to encourage the adoption of e-bikes has been announced by the Scottish Government and will be delivered by the Energy Saving Trust.
For 2019/2020, £1.14 million has been allocated from the Scottish Government's £80 million budget for active travel to finance the eBike Grant Fund. The scheme helps assist local authorities, public sector agencies, further and higher education institutions, active travel hubs and community groups to adopt e-bikes and e-cargo bikes as more sustainable alternatives to car journeys.
Read more about funding for e-bikes
Tags: digitaleconomy, digitalskills, labourmarketstatistics, natantis, scotlandseconomy, scotlandslabourmarket
Comments