Scotland's Economy
This week: 12/07/19
July 12, 2019 by admin No Comments | Category Economy, Finance
Regional Selective Assistance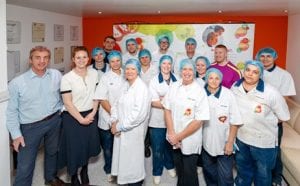 Business Minister Jamie Hepburn announced a £152,000 Regional Selective Assistance grant for Victor Pizza, creating 15.5 full time jobs and safeguarding 7 jobs over the next 3 years. He said:
"I am pleased this £152,000 Scottish Enterprise grant will help create 15 full time jobs and safeguard seven jobs over the next three years at Victor Pizza.
"Scotland's food and drink sector, now worth a record £14.8 billion is vital to our economy. The Scottish Government and our agencies will continue to support the sector by supporting the Ambition 2030 food and drink strategy to double the value of the sector by 2030.
"The Scottish Government and our agencies look forward to seeing the business grow."
Read more about the Regional Selective Assistance grant
Funding announced for Moray Growth Deal
The Moray Growth Deal will see £65 million invested in creating high-value jobs, strengthening local communities and safeguarding the future of the local economy.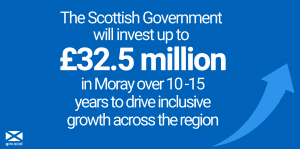 The Scottish Government will invest up to £32.5 million in Moray over 10 to 15 years to drive inclusive economic growth across the region, with the UK Government matching the funding over a 15 year period.
The investment will fund targeted economic development activity across a range of themes, including infrastructure, transport, tourism, energy and skills.
Read more about the Moray Growth Deal
National Islands Plan consultation
Approximately 1,000 people have already contributed to the development of Scotland's first ever National Islands Plan.
Through 60 events, on 46 islands, and an online consultation, Scotland's island residents have been sharing their opinions on what works well in their communities as well as on the challenges they face – such as population retention, economic development, housing, health, environment, transport and digital connectivity.
Commenting on the consultation progress while visiting the Slate Islands of Easdale, Seil and Luing, as part of a programme of island visits this week, Islands Minister Paul Wheelhouse said:
"Last year, the passage of the first ever Act of Parliament aimed specifically at islanders' needs and the positive contributions made to Scotland by our islands, marked an historic milestone for our islands communities.
"We are steadily implementing the provisions of the Act and I am therefore delighted to see so many island residents, and others with an interest in our islands, sharing their views, hopes and aspirations for the future for our islands communities during the consultation on Scotland's first ever National Islands Plan.
"The consultation, including events that I have been able to see during my visits this week, is ensuring we discuss challenges, learn lessons from policy successes that have been achieved across island communities, and identify factors that contribute to good policy outcomes. The evidence we are gathering will help us to better target public resources to help our islands, with the objective of enabling all who live on our islands to flourish.
"This has been an unprecedented exercise in listening to Scotland's islanders and it is my sincere hope that this important consultation helps us to project islanders' voices to Scotland's policy makers and public bodies and harness the undoubted strengths and resources of islands communities, with the objective of providing the brightest, most sustainable future for our islands communities that, in so many ways, constitute the very best of Scotland."
Tags: economicgrowth, economy, moraygrowthdeal, nationalislandsplan, scotlandseconomy, scottisheconomy
Comments