Scotland's Economy
This week: GERS, Denmark and equal employment opportunities
August 23, 2019 by charlottebarbour No Comments | Category Economy
GERS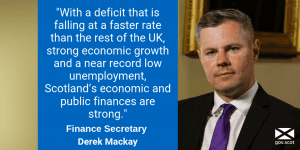 Scotland's notional deficit is falling faster than the UK's, with onshore revenues increasing by 5.1% to reach £61.3 billion in 2018-19 as a result of continued economic growth.
According to the Government Expenditure and Revenue Scotland (GERS) figures published on 21 June, Scotland benefitted from a £3 billion increase in onshore revenues in the last year – the fastest growth since 2010-11 as the overall notional deficit fell by £1.1 billion to 7.0% of GDP, down from 8%, in 2018-19.
The reduction in the notional deficit is the result of revenues growing at a faster rate than expenditure.
Finance Secretary Derek Mackay said:
"With record tax revenues, strong economic growth and near record low unemployment, Scotland's economy and public finances are strong. Today's figures show overall revenue in Scotland reached £62.7 billion – exceeding £60 billion for the first time – reflecting the strength of our economy."
Read more about the GERS figures 
Denmark visit
Fair Work Minister Jamie Hepburn travelled to Denmark to meet with the Danish Employment Minister, officials and employers' organisation to discuss employment for disabled people and the gender pay gap.
Mr Hepburn met with a series of officials who work in reducing the disability employment gap and gender pay gap. He also met Peter Hummelgaard, the Danish Employment Minister, and Dominic Schroeder, UK Ambassador to Denmark.
Inverness and Aberdeen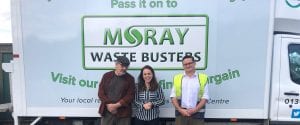 Digital Economy Minister Kate Forbes visited a number of businesses in Inverness and Aberdeen to highlight the Scottish Government's ambition to ensure Scotland's future workforce is equipped with the necessary digital skills to embrace all future opportunities.
Ferguson's
A programme board has been set up by Economy Secretary Derek Mackay to ensure effective completion of the two Caledonian Maritime Assets Ltd (CMAL) ferries being built at Ferguson Marine shipyard.
Following the agreement reached with administrators to take the Ferguson Marine shipyard in Port Glasgow into public control, the Programme Review Board will work to secure the most effective delivery programme for the two ferries.
Read more about Ferguson's programme board
Tags: economy, scotlandseconomy
Comments