Scotland's Economy
This week: 5G, tidal energy and business productivity
August 30, 2019 by admin No Comments | Category Economy
5G plan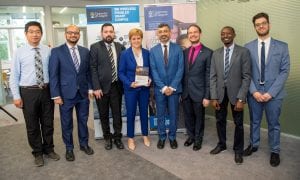 First Minister Nicola Sturgeon has unveiled 'Forging Our Digital Future With 5G', a new plan that will put Scotland at the forefront of the 5G technological revolution.
5G is the next generation of mobile internet, offering faster speeds and enhanced connectivity that could transform transport, education, healthcare and agriculture among other sectors.
The plan, Forging our Digital Future with 5G, sets out how the Scottish Government will work with industry, the regulator and other public sector bodies to make sure all of Scotland – including rural areas – benefits from the technology.
Tidal energy turbine
Scottish Government funding of £3.4 million has been awarded to help build the world's most powerful floating tidal turbine.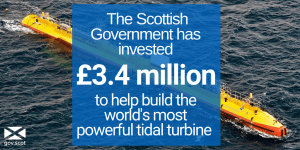 Scottish engineering company Orbital Marine Power (Orbital) has been awarded the money as the first recipient of the Scottish Government's £10 million Saltire Tidal Energy Challenge Fund.
The funding will be used to deliver the next generation O2 2MW Floating Tidal Energy Turbine, capable of powering more than 1,700 homes per year.
Scotland's Energy Minister Paul Wheelhouse said:
"We have established a world lead in marine renewable technologies and this project represents a significant step forward in technological development. We are delighted this landmark turbine, designed by an innovative Scottish company, will also be built in Scotland."
Read more about the tidal energy funding
Tay Cities Region Skills Investment Plan
Business, Fair Work and Skills Minister Jamie Hepburn welcomed the new Skills Investment Plan for the Tay Cities region.
The Plan, which focuses on the skills needs of people and businesses across Angus, Dundee, Perth and Kinross and north east Fife, was developed by Skills Development Scotland (SDS) alongside a range of partners including local authorities, colleges and universities.
It will inform delivery of the Tay Cities Region Deal, which includes Scottish Government funding of up to £20million towards skills and employability.
Groundbreaking ceremony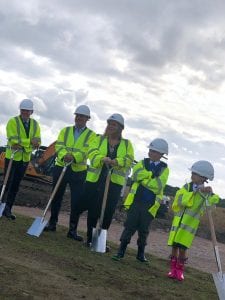 Economy Secretary Derek Mackay participated in a groundbreaking ceremony for the construction of the Advanced Manufacturing Innovation District in Renfrewshire.
M Squared Lasers
Economy Secretary Derek Mackay opened M Squared Lasers' new technology centre in Glasgow.
Productivity Clubs
Innovation Minister Ivan McKee launched the SCDI Glasgow Productivity Club pilot in Glasgow.
The clubs, set up by the Scottish Government and the Scottish Council for Development and Industry (SCDI) aim to drive growth in small businesses and will provide a platform for business owners to share advice, ideas and knowledge.
Read more about the Productivity Clubs.
Comments