Scotland's Economy
Foundation Apprenticeships receive further recognition – Skills Minister Jamie Hepburn
January 13, 2020 by Jenny Kane No Comments | Category Economy, Uncategorized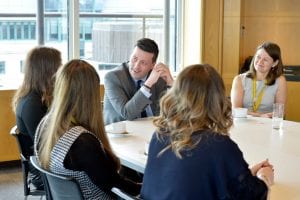 To meet the future skills needs of Scotland's economy it is vital industry and educational institutions work together.
Foundation Apprenticeships are an important part of building strong links between the two and, crucially, equipping young people with the skills they need to progress onto a successful career or further education.
I am delighted that the Universities and Colleges Admissions Service (UCAS) is now awarding tariff points for Foundation Apprenticeships, recognising the importance of work-based learning and giving young people more choice.
Through the points system, UCAS translates qualifications and grades into a numerical value. Most Foundation Apprenticeship subjects will now earn 42 tariff points while Engineering and Civil Engineering earn 56.
Although Foundation Apprenticeships are already qualifications recognised by all universities and colleges in Scotland, this latest development will help encourage pupils and students to consider undertaking work-based learning as part of their studies.
Signing up for a Foundation Apprenticeship means getting out of the classroom and gaining real, practical work experience at college and with an employer. It is a great opportunity to try out a possible career and progress onto work, a Modern Apprenticeship, a graduate apprenticeship, or other courses at college or university.
Foundation Apprenticeships are also highly rated by businesses. Employers who took on Foundation Apprentices said the young people were well equipped to participate in work while on placement because they arrived with relevant knowledge and skills, according to a Skills Development Scotland (SDS) survey undertaken last year.
Most employers said they saw young people becoming more confident through their work placement and felt that being in a working environment helped them gain maturity and take ownership of their learning.
The feedback from young people has also been extremely positive. Apprentices reported a range of improved skills that employers look for, with 94% saying undertaking a Foundation Apprenticeship improved their communication skills and confidence, 93% reporting it improved their team working skills and 90% reporting improved problem solving and organisational skills.
In awarding each of the 12 Foundation Apprenticeship subjects their own tariff points, UCAS has helped open the doors to work-based learning and all the benefits it can bring.
Tags: Foundation Apprenticeships, UCAS, Universities and Colleges Admissions Service
Comments