Scotland's Economy
Digital skills success – first graduates from £1 million scheme
January 21, 2020 by Kate Forbes MSP No Comments | Category Business, Employment, Uncategorized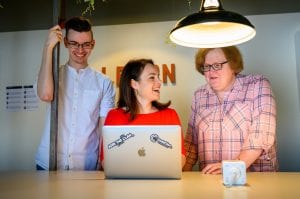 People out of work and those on low incomes have been helped to develop their digital skills through a new fund.
Digital Economy Minister Kate Forbes met with some of the first beneficiaries of the £1 million Digital Start Fund, who have graduated from CodeClan, to hear how the specialist training has helped them achieve their digital ambitions.
Skills Development Scotland deliver and manage the fund on behalf of the Scottish Government.
Ms Forbes said:
"Businesses increasingly need digital skills and so it's important that we ensure there is a pipeline of tech talent coming through from a variety of backgrounds.
"I was delighted to meet with some of the people who have already benefitted from the Digital Start Fund and hear how they are successfully paving their way into digital careers. Not only are these skills that Scotland needs but it's important that everyone has the chance to acquire them.
"In fact, technology is forecast to be the fastest growing sector in Scotland by 2024, but success is dependent on skills. This is a big opportunity not only for tech businesses, but also to future employees. I would encourage anyone who is keen to work in the tech sector to explore whether the Digital Start Fund can help them achieve their digital ambitions."
Here's what some of the first beneficiaries of the Digital Start Fund had to say:
Suzanne Dyson – DSF graduate
"I had mental health problems as a child and spent some time at special schools, and I left high school with an O level in Maths at sixteen. I went to Bradford College where I got three more O levels and an A level, then onto Leeds Polytechnic where I did an HND in Maths and Computing, and then I got a full grant and graduated with an Honours degree in Maths from Leicester University. I was really proud and quite staggered to have graduated.
"I went to work for British Aerospace as a systems engineer which was fascinating – a lot of my work was under the Official Secrets Act. After that, I worked at a software house for five years, where I became a project manager, leading a £50m programme where I had 21 project managers reporting to me. I was burnt out at the end of it and had to go on sick leave.
"I eventually left and decided to move to Scotland. I got a job on a small prawn boat as part of the crew – they'd never had a woman on the boat before – and spent a summer putting creels out in lochs. When I moved to the Argyll mainland, I worked in horticulture and farming for six years, which was so different to what I had done before but still had a technical aspect.
"I suddenly realised I missed the city – I was born and bred in Bradford, and I felt I needed to get back to real life. So I did a council house swap, my rural cottage in Argyll to Edinburgh city centre – near Holyrood. I worked for a web development company for two years, and another one after that, but it wasn't satisfying and my mental health was suffering. I was on Employment and Support Allowance and Disability Living Allowance as I'm autistic and wondering what to do next. Into Work suggested a cyber security taster course at Napier University – the quality of teaching was amazing. Into Work then suggested CodeClan – I was one of the first people to apply for the Digital Start Fund. It was really easy to apply. I wouldn't have been able to study at CodeClan without DSF – I wouldn't have been eligible to get a loan.
"The course was tough and really intense. You have homework every night and weekend, and because I'm a morning person I found that hard – I usually did my homework in the morning before class. One weekend, I was too tired to do the weekend and I talked to the instructors and they made an allowance for me. I felt so much better after a break that weekend and got so much more from the next week.
"It's such a different approach at CodeClan – I was learning from scratch. The quality of teaching is so good – all the instructors were brilliant and they're excellent at guiding you without telling you.
"I wanted to go back to the technical side of working again, and that's why the immersive element of the course is so important. It's not just about learning the programming languages like Java – it's about how to learn technology quickly. CodeClan sharpens your skills and tunes you into how and why things work – that's the most valuable part of the course.
Gillian Shanks, Junior Developer – Social Security Development, The Scottish Government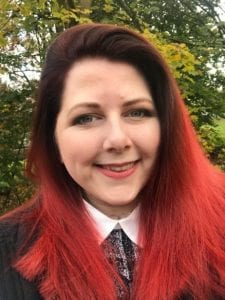 "Coding had always been at the back of my mind – I've always liked code, and my post grad was in video games and education. I spent a whole summer enthralled by code, but when I finished my postgrad, and didn't want to do a PhD, I spent some time trying to figure out what to do with my life.
"Joining CodeClan was the best decision I ever made – I was a bit lost and wasn't sure what to do when my mum saw the CodeClan ad. I went along to an info day and that was it.
"I love learning new things and the course was broken down into consumable chunks so it was a good pace to learn a lot.
"There was a lot more working with others than I thought there would be. I don't like working on my own, and the stereotype of a software developer is someone working alone with headphones. At CodeClan, there's so much teamwork which I loved.
"I had signed on to Universal Credit which made me eligible for the Digital Start Fund (DSF). It covered the whole course plus my travel expenses. I was so happy – it was a weight off my shoulders. I had so much support. CodeClan did everything for me, even helped me apply for DSF. It really helped to know that companies are calling out for coders."
Michael Alexander
"Prior to Codeclan I had an honours degree in Animal Biology but ended up working in hospitality. I read about the Digital Start Fund on the BBC, and when I found out that I was eligible I decided to apply.
"It was a very straightforward application, and along with everything I had to do, CodeClan themselves also helped out a lot. The DSF was the only reason that I was able to do the course, so it cannot be understated how important it was for me! Not only did it allow me to enter the course, but it also covered my laptop hire so that I could complete my studies.
"I studied on the Professional Software Development course. Before the course my knowledge of the subject was limited but it looked interesting. This leads on to my favourite part of the course; learning. Every day introduced a new language, feature, concept, technique (this list could go on!) and this remained the case throughout. It was highly enjoyable coming in day after day and having a new experience each time!
"The people were the most surprising aspect of the course. Whether they were fellow students or staff there was not one person who wasn't supportive, helpful or friendly. Between everyone there was a real sense of comradery in making a new career change.
"I have only graduated from CodeClan a couple of weeks ago so I'm still on the job hunt. However, unlike experiences of this before CodeClan there are so many opportunities which I can now apply for. I have already had one interview and have another one lined up, so things are looking great!
"Of course, it goes without saying that the actual content is powerful but the other skills which I've picked up have been valuable. Things like an understanding of the industry, learning how to learn, and interview skills among others have all been incredibly useful in launching a new career in tech!"
Background
Apply for the Skills Development Fund
Tags: code clan, digital start fund, economy, kate forbes
Comments