Scotland's Economy
Industry Leadership Group review
July 28, 2020 by Jamie Hepburn MSP No Comments | Category Uncategorized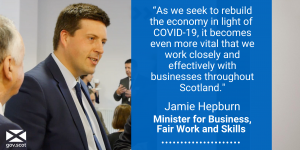 Responding to publication of a review of Industry Leadership Groups, carried out by the Enterprise and Skills Strategic Board, Business Minister Jamie Hepburn said:
"Industry Leadership Groups are a crucial way for the Scottish Government and our agencies to interact with businesses and make sure we are responding properly to their needs and concerns.  We have to continuously look at how they are operating to make sure they are as effective as possible, and that is what this review is all about.
"I welcome this review and would like to thank Nora Senior, Chair of the Enterprise and Skills Strategic Board, the other board members, and everyone else who contributed.
"The Scottish Government will now work with our partners to implement the recommendations, with a view to completing the work by the end of the year.
"As we seek to rebuild the economy following COVID-19 it becomes even more vital that we work closely and effectively with businesses throughout Scotland. The recommendations of this review, alongside the Advisory Group on Economic Recovery, will help us to ensure we can continue to do that in the best possible way."
Comments