Scotland's Economy
Consultation closes on national economic transformation strategy
September 6, 2021 by Kate Forbes MSP No Comments | Category Business, Economy
We are absolutely committed to maximising Scotland's economic potential and we want to work with others to build an economy for everyone.
To help us deliver greater, greener and fairer prosperity we are working to deliver a new 10 year National Strategy for Economic Transformation.
As part of that work extensive engagement is currently taking place across government with different sectors, business, employees and stakeholders, including organisations across the public, private and third sectors.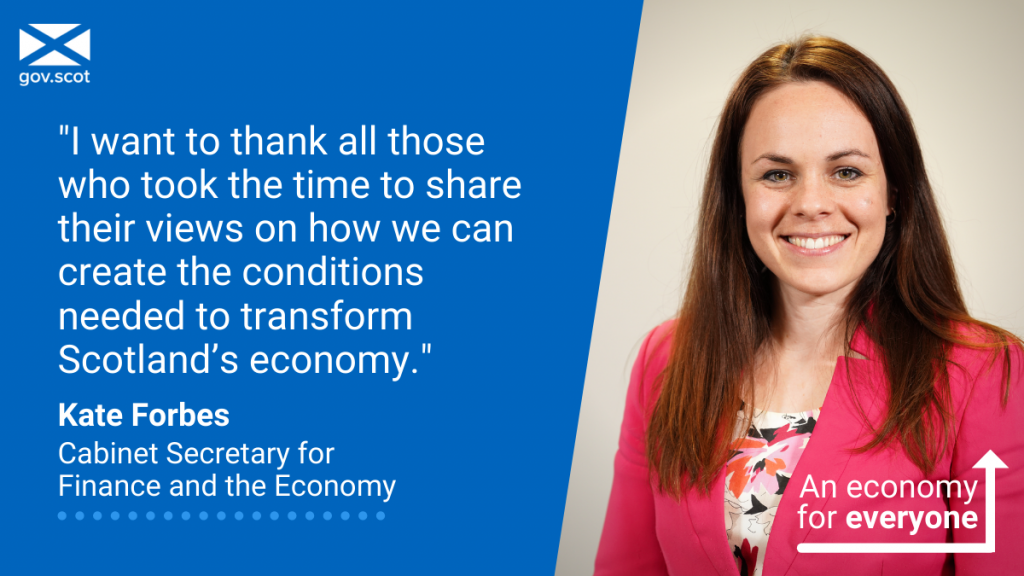 Transforming our economy must be a national endeavour and so it is important that as many people as possible have the opportunity to help shape the type of economy we want to build.
That is why we launched a consultation and invited people and organisations to share their views. This will help ensure our strategy is aligned to the issues that matter most to people while creating the conditions needed to support sustainable and inclusive growth.
That consultation has now closed and I want to thank all those who took the time to take part and share their views.
The consultation responses will be analysed and distilled into key themes. These themes will help inform the work of the strategy and will help members of the council bring forward a focussed plan of actions, projects and bold ideas that will transform the economy.
In the coming weeks and months the Scottish Government will set out how we will continue to support employers and employees as we recover from the pandemic.
Our forthcoming Programme for Government will help create the best conditions for employers and employees by supporting sustainable and inclusive growth and creating secure and satisfying jobs which pay a fair wage.
That is the foundation stone of our society – getting that right will combat poverty, will lead to better health and social outcomes and will generate the public revenue to invest in the best public services. That is why this government is absolutely committed to being pro-prosperity, pro-growth, and pro-business – a true champion for our job creators.
Kate Forbes, Cabinet Secretary for Finance and the Economy
Find out more: Delivering economic transformation – gov.scot (www.gov.scot)
Tags: economy, scotlands economy
Comments