Statistics
Health & Care Experience Survey 2017
October 31, 2017 by hsca No Comments | Category Health and social care
People who have been randomly selected to complete the Health & Care Experience Survey 2017 will be contacted in November. They will receive a letter in the post that will tell them how they can complete the survey. It will also provide background information on the survey and answer some FAQs.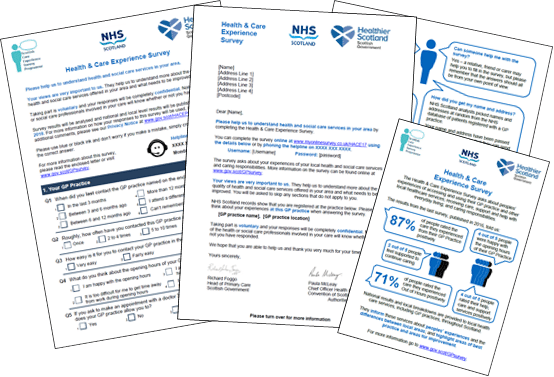 What is the Health & Care Experience Survey?
The Health & Care Experience Survey is run every two years. It asks people across Scotland about their experiences of:
accessing and using their GP Practice and local Out of Hours services;
aspects of care and support provided by local authorities and other organisations; and
caring responsibilities and related support.
The results for the 2017 Health & Care Experience will be published in April 2018. Both national results and local breakdowns will be made available from www.gov.scot/GPSurvey.
Information on how data that is collected through the survey is used is provided in our Privacy Notice. A copy of this is available at www.gov.scot/HACEPrivacyNotice.
Why is the survey needed?
The survey results provide a national and local picture of the quality of these health and care services from the perspective of those using them. This gives the ability to benchmark the quality of these health and care services over time and against others. It also helps Scottish Ministers monitor how well they are fulfilling their duties under Section 1 of the NHS (S) Act 1978.
National results and local breakdowns are provided to local health care services, including GP practices, throughout Scotland. The survey results inform these services about peoples' experiences, as well as highlighting areas of best practice and areas for improvement.
Previous Results
All of the results for previous Health & Care Experience Surveys are available at www.gov.scot/GPSurvey. The results from the last survey, published in 2016, told us: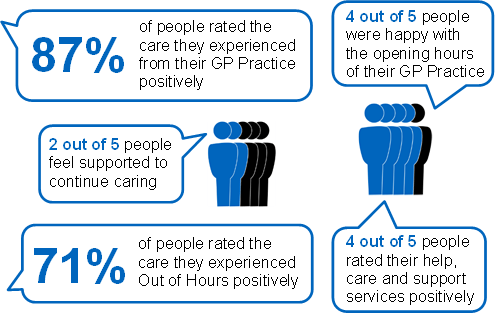 Comments