Statistics
Working as a government statistician – Alison Gordon
December 19, 2019 by lyndseymiddleton No Comments | Category Uncategorized, Working in statistics
The Scottish Government will soon be welcoming applications for permanent Assistant Statistician posts. Leading up to this, we have a series of blog posts by government statisticians talking about how they became Assistant Statisticians. We also have some fixed term opportunities available now. If you are interested in a fixed term opportunity, please submit your up to date CV to: statistics.enquiries@gov.scot
In this blog Alison Gordon tells us about her experiences.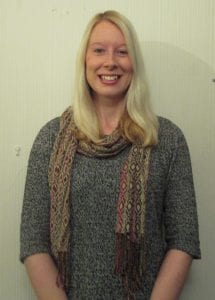 I joined the Scottish Government as an Assistant Statistician around three months ago, following an external recruitment drive earlier this year. Prior to this I worked as a Speech and Language Therapist at Glasgow Royal Infirmary, supporting patients who had suffered communication and swallowing difficulties following a stroke or illness. Coming from a clinical role, I was reassured to find that the statisticians in the Scottish Government come from a range of backgrounds (in my experience few have a degree in statistics). My own undergraduate degree was in Psychology. This was followed by several years working in special schools and international schools in the UK and overseas, before I returned to university to complete my Masters and train as a Speech and Language Therapist. Both my Undergraduate and Masters degrees involved modules on research methods, which sparked an interest in statistics. More importantly perhaps, my previous roles equipped me with vital transferable skills, such as organisation, critical thinking and being able to communicate effectively. My decision to leave my role in the NHS and apply for a job in the Government was driven by the desire for a new challenge and change in direction. I applied knowing relatively little about the role of an Assistant Statistician but was impressed by the Scottish Government's commitment to training and supporting new staff, as well as its competitive staff benefits.
I was fortunate enough to be offered a job in the Learning Directorate and I am enjoying working within education once more (albeit in quite a different capacity this time round!). I am currently part of the 'Insight' project team (an online benchmarking tool containing attainment data for senior-phase secondary school pupils across Scotland). My day-to-day responsibilities include preparing data sets for distribution to stakeholders, performing quality assurance checks on data and responding to queries from local authorities (to support them to make sense of their own local attainment data). The work is varied, interesting and challenging and I am enjoying being part of a small supportive team.
Although the work can be technically challenging and mentally demanding, there is a lot of support available for new starters. All new Assistant Statisticians are invited to attend a series of induction events and have the option of being assigned a buddy (a fellow Assistant Statistician from a different department). You are encouraged to take responsibility for your own continued professional development and a wide range of training opportunities are available. For instance, when I started I had no prior experience of coding and so I spent time during my first few weeks in post attending in-house training sessions on R and SAS coding languages, as well as completing relevant online training modules.
In the coming months I am looking forward to further developing my analytical skills and getting more involved in projects within my team. My experience of working within the Scottish Government has been very positive thus far and I would encourage anyone considering applying for an assistant statistician post to go for it, regardless of background or experience.
Tags: careers, statistics
Comments