Statistics
Working as a government statistician – Esther Roughsedge
March 8, 2023 by Helen Davidson No Comments | Category Working in statistics
This article has been produced as part of a blog series to spotlight the work of analysts and statisticians across government. In this first blog, hear from Esther Roughsedge about her work in National Records of Scotland on the BBC Scotland Documentary 'Who lives in Scotland?'

I head the Population and Migration Statistics team at National Records of Scotland. Last year, we had an amazing opportunity to be involved in making a BBC Scotland documentary about our work.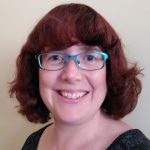 Population affects all our daily lives, which is why our statistics are so important. The impacts can range from childcare provision and how big or small our schools need to be, to whether there is enough money to meet the needs of our growing numbers of older people. It impacts where houses are built and what services are needed, as well as industry and businesses. It matters to every one of us, and it's changing fast. 
Over the last few years, we have been working hard at improving the ways we communicate our statistics and why they matter, so that more people can understand what is happening and what it means. 
 BBC Scotland documentary 'Who lives in Scotland?'
Last year, we had a great opportunity to take this further – we collaborated with a production company on a 2-part documentary for BBC Scotland. The documentary, 'Who lives in Scotland?', was based on our work. We saw this as a brilliant way to reach a far wider audience than usual, and talk about the importance of what we do and the implications for everyone. 
We worked with the producers over six months, helping them identify and develop the stories, and considering how best to communicate the statistics. Because this was aimed at a general TV audience, we focussed on ways to make our analysis easy for non-specialists to understand and relate to.

I spent a day being filmed, along with two of my colleagues. We were interviewed by the presenter, Martin Geissler. It was fascinating being part of this, and to see how TV programmes are made. It really helped to have a colleague there to check anything we were unsure about, in terms of tone or factual accuracy. We recorded things over and over until we were all happy that what we said told the story and was clear, accurate, interesting, and easy to understand.

The programmes got a Prime Time slot on BBC1 in Scotland, and they are available on BBC iPlayer. After all this work, it was brilliant to see how it came together, and how our contribution was tied in with other experts and stories about the lives of people living all round Scotland. 
 Award winning for communication work
We were delighted to win the UK Analysis in Government Award for Communication for this work.
Alastair McAlpine, Chief Statistician for the Scottish Government said: 
"Shifts in population have profound effects on the country, impacting areas such as housing, employment and heath care. The work of the National Records of Scotland in collecting and producing information about our population, provides significant evidence as we seek to systematically improve the lives of the people of Scotland. I'm delighted to see this important work brought to the screen in BBC Scotland's two-part documentary 'Who lives in Scotland', with insights on population trends, birth rates, migration, health and ageing." 
Tags: data, Scotland, statistics, Workforce
Comments