Digital
Social Housing – "Connecting the Unconnected"
February 12, 2016 by Fraser Reid No Comments | Category Digital Participation, Digital Scotland
Getting online has never been more important.  Being able to access the internet can open up a whole world of opportunities.  Many of us take it for granted that we can click on the web and shop cheaply, check out the latest job sites, discover key information for our studies or work, book a cut-price holiday or fill in an online government form.
However, for many Social Housing Tenants this isn't an option.  Digital inclusion is a huge challenge – and one which, along with the Social Housing Sector, The Scottish Government's Digital Scotland movement is determined to face head-on as part of our vision to make homes and lives better.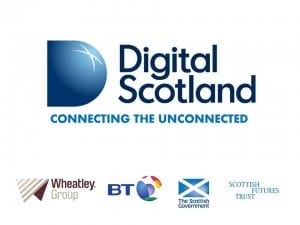 Connecting the Unconnected is an initiative established by the Scottish Government in partnership with The Wheatley Group, Scottish Futures Trust and BT.  Through workshops, conferences and online forums the initiative aims to share information and learning amongst Social Housing providers and their stakeholders in relation to the benefits of Digital Participation.
Our second "Connecting the Unconnected" event was held on the 28th October 2015 in Edinburgh and saw over 120 attendees explore issues such as collective working and the benefits to building online services around your tenants.  Our third event will take place in Dundee's Abertay University on the 16th March where we will have a full agenda of speakers and an exhibition hall of related projects and organisations.
Housing Association across Scotland are leading the way and proactively making the change to prioritise Digital Participation, the benefits of the transition are starting to show, and in 2014 there was a massive 19% increase in broadband access at home for Social Housing tenants.   Its essential that further progress is make to build on this success and ensure that if tenants want to get online, then they have the opportunity to do just that.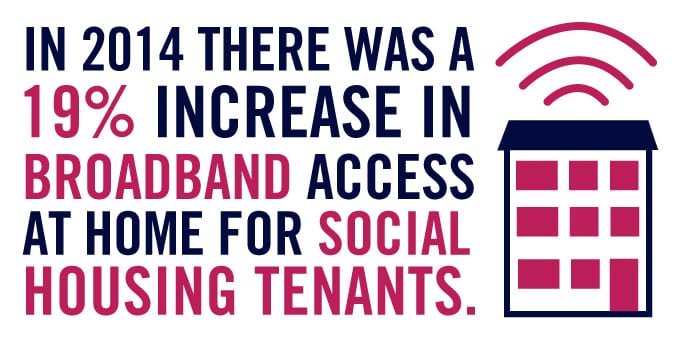 Raising Digital Participation levels and ensuring no one is left behind is a massive challenge, and one which no single organisation can achieve alone. If you have an interest in Digital Participation and want to find out more, then come and join us in Dundee on the 16th March by registering on the following link, http://connectingtheunconnected.eventbrite.co.uk/.  If you use Linkedin you can also join our discussion group https://www.linkedin.com/groups/8283953
Get in touch
We'll be sharing updates on this, and much more on social, so follow the team via @digitalscots for more updates. Want to comment? Get in touch below!
Comments