Digital
Why the future of digital tech needs women
February 23, 2017 by Talat Yaqoob No Comments | Category Digital Public Services, Digital Scotland
This is a post by Talat Yaqoob, Director of Equate Scotland.
The scale of the challenge
According to research carried out  by the Social Market Foundation, the Science, Technology, Engineering and Mathematics (STEM) sector, and the digital skills sector in particular, is growing at double the rate of any other employment sector.
This means, over the next 6 years, 52,355 new STEM related jobs will need to be filled in Scotland. But with only 18% of digital technology jobs being filled by women, how can Scotland lead the global digital revolution, or stay globally competitive?
The answer is, we can't. There is a shortage of digital skills across the labour market in Scotland, and to meet targets we must harness the ambitions and talents of 51% of the population.
Why we need more women in digital
Increasing the number of women in digital technology is not only an economic imperative, but must be a priority for social equality too. It plays a part in achieving the Scottish Government's National Outcome 'We have tackled the significant inequalities in Scottish society.'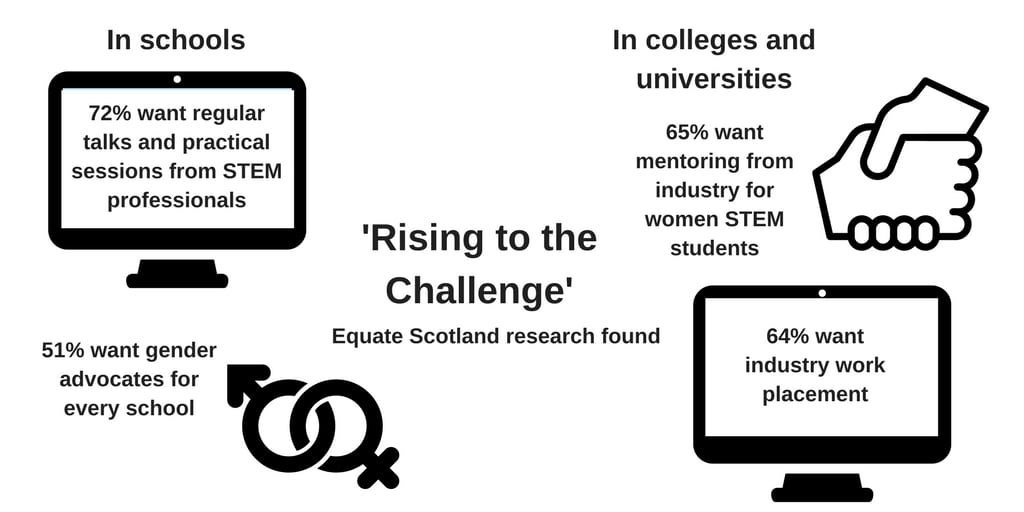 And, as the number of jobs in the digital sector increase (particularly with the increasing use of automation), we will exacerbate already deep rooted occupational segregation. To ensure equal access to the sectors where the majority of jobs exist, we need to pursue equality and diversity across employment in tech.
What can happen when diversity's ignored
The issues of a lack of diversity in the digital world certainly aren't new. A lack of diversity (in particular gender diversity) has got in the way of digital progress.
An unfortunate example of this comes from Apple. In 2014, the global tech behemoth launched its health tracker, calling it 'a comprehensive analysis of all your health.' It allowed you to track your pulse, your sodium intake and alcohol levels. Yet this 'comprehensive' app forgot about menstrual health – turns out the entire team of developers were men.
Medical tech is another space in which a lack of women is clearly evident in the sector's outputs. The prospect of fully artificial hearts may sound promising, but the first prototypes of it fit 86% of men yet only around 20% of women.
Why? Because, on average, women are smaller. Not something you would think would pass creators by. In this case, a lack of women in technology becomes a matter of life and death.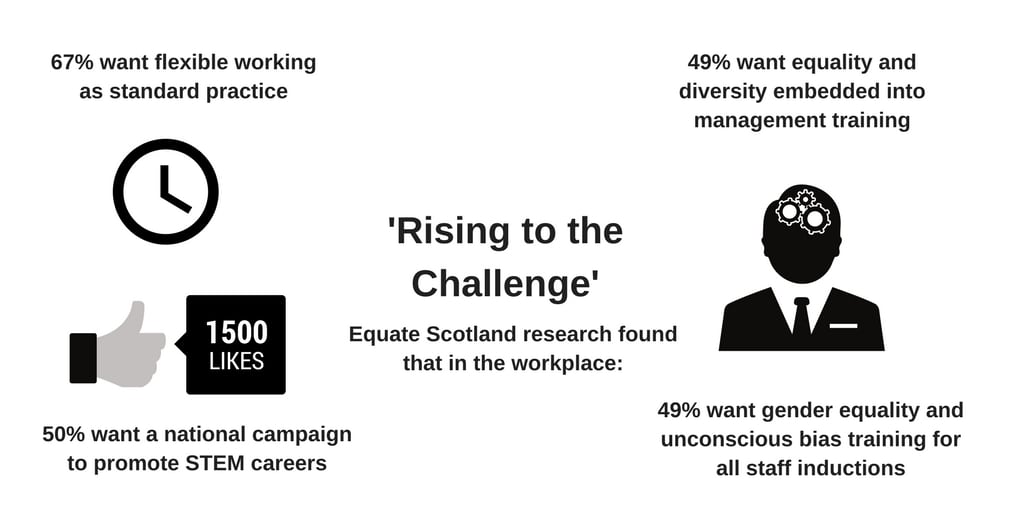 We know why it matters, but we also need to know how to overcome this challenge.
There's more we can do
In Equate Scotland's recent report Rising to the Challenge we surveyed over 1100 girls, women, educators and employers and asked them what more can be done to increase the number of women in STEM.
Here is what they said:
In primary and secondary schools:
72% of respondents want to see regular talks and practical sessions from the industry for pupils
51% of respondents want science ambassadors and gender advocates allocated to every school
48% of respondents want gender and equality classes for school pupils across Scotland
In colleges and universities:
68% of respondents want networks for women studying STEM qualifications (such as Equate Scotland's Interconnect programme) across institutions in Scotland
65% of respondents want mentoring from industry for women students
64% of respondents want industry work placements embedded in their STEM qualifications as a core element of the course
In the workplace:
67% of respondents want flexible working options as standard practice in all companies
50% of respondents want investment in a national public campaign to promote STEM careers
49% of respondents want equality and diversity embedded into management training
49% of respondents want gender equality and unconscious bias training as a standard part of all staff inductions
To make a real difference in the number of girls studying computing subjects and women in digital technology jobs, we need to work across the pipeline from schools through to senior management.
Equate Scotland's role
Equate Scotland has been working on these issues for 10 years. Since our launch in 2006, we have worked with women, academia and employers to challenge and change the status quo.
We do this by supporting women's progression and by training and developing educators and employers.
We all need to play a part
To enable Scotland to meet the demands of the sector, increasing gender diversity needs to be a priority beyond Equate Scotland, and beyond Government.
It needs to be a priority for the sector as a whole. Only then will be see the bold changes needed to overcome the digital gender gap.
Join the discussion on Twitter #scotdigidiversity.
Tags: digital diversity, digital sector, diversity
Comments