Digital
Launch of new cloud resources and guidance for the public sector
June 9, 2020 by Stewart Hamilton No Comments | Category Cloud 1st, Digital Transformation Service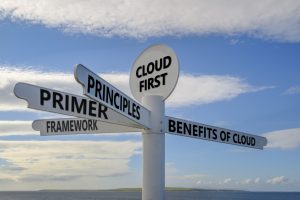 Ross Lyon, Cloud Product Manager, blogs about a new range of cloud resources and guidance for the public sector
The disruption resulting from the Covid 19 pandemic has changed the behaviour of government organisations, businesses and consumers. Many more people are using cloud-based applications and infrastructure that help them to work remotely. Indeed, all of the major public cloud providers have reported significant increases in use and expenditure on cloud.
As you'll be aware from our previous Cloud News blogs, we established the Cloud Centre of Excellence to support decision making across the Scottish public sector when planning and moving to cloud or to optimise and improve use of cloud for those already using it.
We have been working with the Cloud Community to develop a renewed Cloud First approach. The community has helped us to develop new resources to assist organisations moving to, and working with, cloud applications and environments.
A new Cloud First policy statement gives a clear direction for public sector organisations in Scotland to use public cloud as the default delivery model for user-focused services.
The Benefits of Cloud information will help stakeholders understand the many benefits of using public cloud services. It gives a high-level overview of the different aspects and uses of cloud.
The accompanying Cloud Primer has been created as an introduction, allowing staff from different parts of the organisation to take part in discussions about cloud.
We have included seven Cloud Principles to guide organisations in using cloud appropriately and securely.
As we have said before, we need feedback from the Cloud Community to help us iterate, improve and add to these resources. If you aren't currently part of the community, drop us an email to cloud1st@gov.scot to take part. We are also planning to host a virtual meeting for the community towards the end of June – details to follow soon.
We hope you are all keeping well and managing to work in our 'new normal'. It would be great to hear about your experiences with some of the new cloud applications and processes which are helping us all at this time. Drop us a line on the address above.
Comments