Digital
Lockdown diary 2020 : tools and tips from a Digital Mum
May 14, 2020 by Christina Stokes 4 Comments | Category Digital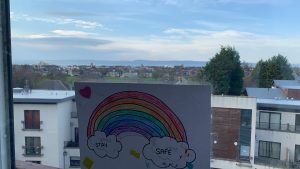 Blog post by Anusree Raju, Senior Interaction Designer in the Digital Directorate – and Digital Mum!
At the start of lockdown, Jono Ellis gave us some tools and tips for surviving lockdown life as a Digital Dad. In the eighth week of lockdown, when many of us may be in need of a few more tips, Anusree Raju shares how she's coping with juggling work and parenting in lockdown as the Mum of a pre-schooler.
The year 2020 started off on a joyous note for me with the excitement of starting my new job at SG. Like most of us, I was looking forward to our family vacation in April to visit our loved ones. But things took a sharp turn with the arrival of Covid19, turning the world upside down. With the lockdown still in place, I have slowly come to terms with this new 'normal'.
Being a mum to my 2-year-old who seeks constant attention (cuteness I wouldn't complain about!) and juggling work alongside is challenging. Here's some tips and tricks which I tried – not all worked for me, but might help you.
Start your day early – Trying to get an early start to the day before my little one is up puts me in a great space of positive energy for the day ahead. I must say I haven't perfected this yet, but I will get there sooner than later.
Plan kids' activities – Thanks to Google and my other parent friends, the following activities helped me to keep my kid active and engaged so far:

Reading books (even though I sometimes ended up reading the same book for the umpteenth time!)
Using learning apps like Lingo kids
Online Zoom calls with friends and family
Pinterest inspired DIY activities
Getting some fresh air on the balcony or the garden downstairs
TV time is restricted but when we do, we set a timer.
Watching learning videos from Play to Learn Preschool – one video per day.
Having a visual daily routine worked well for us too!

Create a work and home schedule – Setting up a separate workspace helped me to stay on my work schedule. A few months ago I'd never have dreamt that before setting up a meeting, in addition to our team members', my partner and I would now regularly check each other's calendar to ensure one of us is taking care of our child.
To tackle the piling household chores, this blog enlightened me to have a plan in place. I use Trello for my weekly meal plan and cleaning schedule.
Learn something new – I recently installed Audible app to give audio books a try and I must say, I really enjoyed listening to 'Becoming' audiobook narrated by Michelle Obama herself while doing the household activities post work.
Pamper yourself – I set aside some 'me' time every day to do things I enjoy with either my partner's help or after my wee one is asleep. This really helps me a lot to unwind and relax.
Declutter – I am no Marie Kondo but decluttering my closet during weekend did help clearing my mind too!
Keep a gratitude journal – In such times, I feel grateful for those little things in life that brings happiness like rays of sunshine or a smile on my loved ones. I try to write about it in one line whenever I can.
Lesson learned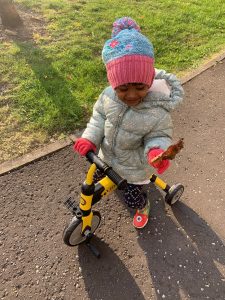 In retrospect, an important lesson I learnt is – don't stress yourself for not getting things done! It's okay. But remember to keep going and never give up. Keep your hope alive.
As a wise saying goes, this too shall pass.
Comments