Digital
9 Common Myths about Service Design
June 18, 2020 by Stewart Hamilton 1 Comment | Category Scottish Approach to Service Design
Blog by Digital Transformation Division, Service Design leads, Sam Ernstzen and Serena Nüsing.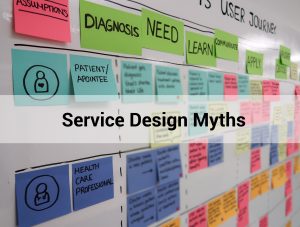 Service designers are part of the community of professions who work together to bring user centred design approaches to build accessible and inclusive services for citizens and colleagues. You may have heard different things about our role, so we wanted to take the opportunity to clear up some of the most common myths and hopefully show you the value that having a service designer on your programme or project can bring. We have put our heads together and pulled out what we hear most often when working with teams and hopefully bust those service design myths for once and for all!
1. Service Design is just about digital
The services we help design may have digital elements but that is never the whole picture. Whether the service is online, by phone or post or face to face, service designers make sure that each part of the services being built are as accessible and inclusive as possible and create a consistent service experience for everyone.
2. Service design is just about user journey maps
Tools and methodologies are often the first thing people think about when it comes to service design with user journey maps being the one that most people are familiar with. Undoubtedly it's a useful tool and one the many that we can use to help stakeholders engage around wider problems. In practice we like to think of service design as more of a mind-set than a method.
3. Business analysts and service designers do the same thing
While we share similar skills, these two disciplines have different perspectives and approaches which is why both roles are essential to designing and transforming services. Day to day, we collaborate with our business analyst colleagues bringing our combined skills together around the shared goal of making services work better.
4. Having a service designer means that they design the service
Designing services is a team activity and the best services are designed by multidisciplinary teams. We certainly help to facilitate the creation of the service by designing the end-to-end journey and its component parts. Because we take into account insight from users as well as insights from business and technical analysis, we're able to make recommendations and identify the consequences if certain decisions are made.
5. All services need to be designed from scratch
Most of the time we're not designing new services but trying to refine and redesign existing services to make them better. This distinction is important, as the approach for each is different. Not every service needs to be designed from scratch – and that's okay.
6. Service Design starts when user research finishes
Service designers and user researchers both listen to users to understand their experiences so it is important that our two professions collaborate. While user researchers take the lead on conducting research, we support them in designing the research tools and synthesising insights. We can positively influence and support each other when designing user engagement.
7. Ideas are not allowed
We absolutely welcome people generating ideas at any stage of a project. Ideas are important stimuli in our co-creation sessions and help us gather user feedback and input. The term for this is 'ideation' which is the process of generating and exploring a wide range of ideas. It helps us to think creatively and to explore new opportunities. In ideation we don't judge or evaluate an idea, especially in the early stages, this is where we want quantity over quality!
8. Users will tell you the solution
Involving users into the design process is a key principle of service design. Services should be co-created with users. However, what we find is that when we ask people what changes they'd like to see they often make confident but false predictions of what is needed. That is why working closely with user researchers is so important – knowing what to ask, how to synthesise the information and how to test it with users.
9. Service designers only make things look nice
The services we help design can be very complex and visualising those services can be a powerful way of helping people understand that complexity. As service designers we use visuals to create a shared understanding of the service, convey ideas, clarify concepts and spark discussions. We use visuals to engage with people in an easy and accessible way – that is definitely not the same as making things look nice!
Overview
Service design is a relatively new discipline that has come to Scottish Government through digital transformation however its remit is far wider than digital.  If you would like to find out more about service design and how it can help you please contact – Samantha.Ernstzen@gov.scot.
Tags: Design, government, scottish, service
Comments