Digital
Digital Strategy Consultation – A Digital and Data Economy
November 23, 2020 by Stewart Hamilton No Comments | Category Digital Scotland, Digital Strategy Consultation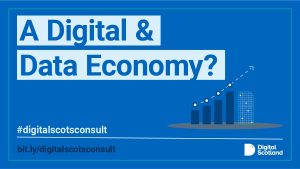 In a recent blog, we introduced the consultation for the new Digital Strategy for Scotland and highlighted why it is so important for people across the country to have their voices heard. This is the fourth blog in a short series taking a look at the key themes raised within the strategy. In this blog, hear why digital and data are key to supporting the economy in a post-Coronavirus world.
The coronavirus crisis has shown us the importance of digital capability in ensuring a robust, inclusive, wellbeing economy that is equipped and ready to respond to situations like the one we find ourselves in now. Scotland's tech sector will undoubtedly play a crucial role in our country's economic recovery following the pandemic, and so it is essential that the digital economy is supported by the public sector.
The pandemic has forced businesses across the country to adapt and innovate digitally at an accelerated pace, achieving in the space of weeks what would typically take years. However, there is progress still to be made to ensure that every business in Scotland, no matter how big or small, realises the importance of digital technologies. The updated strategy discussion document outlines a number of ways in which the public sector can work in collaboration with the tech industry to ensure we sustain a successful, inclusive digital and data economy. These potential actions range from ensuring investment in expert support for SMEs, to increasing diversity in digital roles across the country, to using Scotland's data capabilities to address climate change targets. We recognise the importance of investing in our tech sector and ensuring that it has the necessary skills and people to keep moving forward; more must be done to support the emergence and growth of tech businesses.
Whilst there is still progress still to be made, it is important to recognise the steps we have already taken together to establish a strong digital and data economy. The discussion document details a number of case studies that show developments made within this area. One of these case studies is the work that the Data Lab, Scotland's Innovation Centre for Data science and AI, has done with its far-reaching network of over 2,000 companies to help make Scotland the global leader in data innovation. It has supported over 400 projects across a number of industries and the companies that it has assisted are predicting an increase in revenue of over £200m and 750 new jobs. This is a truly remarkable achievement and one that highlights the endless possibilities that lie ahead of us in the tech sector!
The coronavirus crisis has reminded us all of the social and economic consequences that can occur as a result of being digitally excluded. However, it has also highlighted that we do have the skills needed to digitalise services in response to external forces and that there is a clear positive impact of delivering joined up digital services. We hope that the actions laid out in the updated strategy will guide Scotland towards being a truly digital nation and one that is built around the needs of its people.
You can view the consultation document, and have your say, here. Keep up to date on @digitalscots, and we'll report back on what we've learned in the New Year.
Tags: Data, digital, Digital Scotland, Digital Strategy Consultation, economy, scotland
Comments