Digital
Data access for the public good
November 30, 2020 by Stewart Hamilton No Comments | Category Data, Digital Scotland
Blog by Tom Andrews, Communications and Engagement Manager, Statistics and Data Access Division.
The Statistics and Data Access Division has been working with the Scottish Centre for Administrative Data Research (SCADR) to make data linkage – the linking of administrative data created by one organisation or department to that from another – in Scotland more efficient.
The partnership, known as ADR Scotland, aims to enable faster, more efficient data access for research that is for the public good.
Scotland's data infrastructure has been enabling high quality research in a secure and ethical way for many years. The new and enhanced data linkage infrastructure is designed to ensure that data controllers maintain control and visibility over how their data is used and save time and effort by reducing the time spent responding to repeated data access requests. Instead of having to extract, review and provision data for each request, data controllers will now have the option to provide their data to ADR Scotland only once, where it will be held in a reusable format.
Research in the public good
Projects using data held under ADR Scotland will continue to be assessed by statistical, research and data protection experts. They will only be approved for access if the public benefit outweighs the privacy risk. Researchers will continue to get access only to the required data for their research project when they demonstrate that the findings are in the public good and have the potential to improve lives.
Protecting privacy
Administrative data is usually personal data and therefore needs to be stored in a secure location with restricted access, and handled and processed in a confidential and secure manner.
Data acquired by ADR Scotland will be uploaded, stored and processed in a highly-secure computing environment. A key feature of the infrastructure is that a single organisation will never have all the information about a complete dataset or an individual. This is known as 'a separation of functions' approach and ensures a high level of security.
The indexing will be performed by National Records of Scotland (NRS) and storage and linkage will be performed by EPCC, with storage data, demographic data, and linkage all being held in separate, distinct areas within the infrastructure, and accessed by separate individuals within EPCC.
Using this 'separation of functions' helps to protect privacy and contributes to keeping any risk of individuals being identified to an absolute minimum during the data storage and linkage process.
A sustainable research resource
ADR Scotland will continue to build on the existing data linkage landscape in Scotland by developing curated, themed data sets that will be maintained and available for repeat use to answer new and different research questions. Ultimately, this will be a sustainable research resource that offers greater value for money, and more efficient use of data already collected.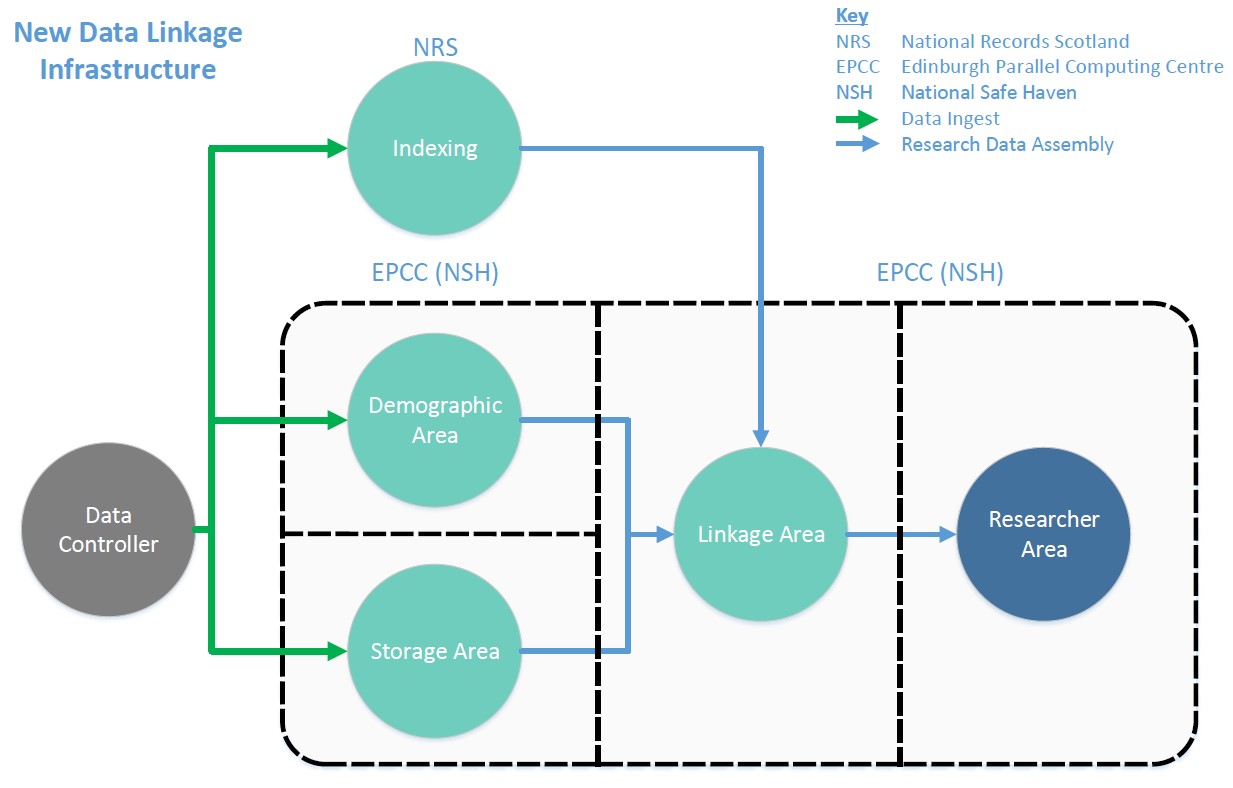 Figure 1. This simplified diagram outlines how data enters and moves through the ADR Scotland data linkage infrastructure – dotted lines represent different parts of the secure National Safe Haven.
Tags: access, ADR, Data, public, research, scotland
Comments