Digital
Launch of new Digital Strategy for Scotland
March 11, 2021 by Stewart Hamilton No Comments | Category Digital Scotland, Digital Strategy
We've launched the new Digital Strategy for Scotland.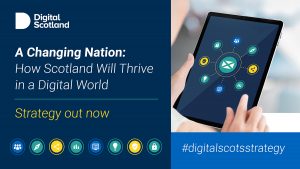 The new Digital Strategy for Scotland, "A Changing Nation: How Scotland Will Thrive In A Digital World" sets out the role digital will play in our recovery from coronavirus, and how we can work together to enable Scotland to fulfil its potential, facing the challenges and opportunities digital brings and ensuring the societal and economic wellbeing of our people and our country.
Read the strategy: https://www.gov.scot/publications/a-changing-nation-how-scotland-will-thrive-in-a-digital-world
Digital technologies are transforming the way in which people live their lives across Scotland. They are helping to deliver better outcomes for people, and provide significant opportunities to improve our essential public services. The coronavirus crisis has shown us that working digitally is more important than ever before and has driven fundamental changes, including how we work and how we interact socially. It has also shown that collaboration can achieve powerful results.
The strategy is truly collaborative, produced jointly by national and local government. And, to ensure it reflected the views and aspiration of the people of Scotland, we held a consultation on the draft strategy between September and December 2020. We received more than 200 responses from every sector of society. We were hugely encouraged by the support we received, with almost every response endorsing the vision and agreeing on the need for collaboration and innovation to deliver it.
Since then we've worked together to produce this refreshed Digital Strategy for Scotland that enables a shared vision of a modern, digital and collaborative government, designed around people. While the publication of this strategy represents a significant milestone in this collaborative effort, its publication is only the beginning.
The Digital Strategy has three key themes: People and Place, A Strong Digital Economy and Digital Government and Services which are founded on embracing the opportunities of technology, the opportunities of data and the opportunities of a truly digital thinking to ensure that Scotland is recognised throughout the world as a digital nation.
Key programmes and outcomes within these themes focus on improving broadband connectivity, continuing to bring the digitally excluded online, increasing digital skills, helping businesses to work digitally, boosting the tech sector, and ensuring government services are designed around the people who use them.
We'll be publishing a series of blogs over the next week looking at our three key themes.
The global speed of digital transformation will only increase. But we are confident that the measures set out in the Strategy will allow Scotland to more than keep pace with change, facing the challenges and opportunities it brings. We believe this strategy sets out a path for us to work together to ensure Scotland thrives in a digital world.
For more information about the refreshed Digital Strategy, please contact our Digital Directorate Communications team: digitalcest@gov.scot
In addition to the new Digital Strategy for Scotland, a new AI Strategy for Scotland will be launched on the 22 March. For more information visit: https://www.scotlandaistrategy.com/
Tags: A Changing Nation, COSLA, Digital Strategy for Scotland, local government, scottish government
Comments