Digital
Introducing new Design System Axure library
July 7, 2021 by Stewart Hamilton No Comments | Category Digital Scotland, Digital Scotland Design System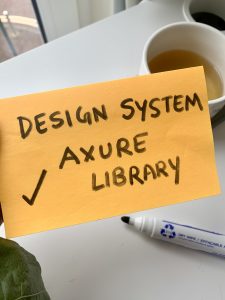 Blog by Anusree Raju, Senior Interaction Designer, Digital Directorate and Jamie McInnes, Interaction Designer, Social Security Directorate.
Scottish Government's design system known as Digital Scotland Design System recently launched its new Axure library which consists of design system components and patterns which have now been published on its site.
If you are a designer or you design wireframes/prototypes or you might be simply curious to try something new, then this new design kit is for you. It will help you create wireframes and interactive prototypes easily in Axure RP, a prototyping tool. Don't worry if you have not heard of Axure or not familiar with it yet, we have some commonly asked questions below answered for you to know more.
Firstly, what is an Axure library?
An Axure library is a collection of pre-made components available to drag and drop into your designs to save time and ensure consistency.
So how is our Design System Axure library different?
The Design System Axure library (digitalscotlanddesignsystem_v1.0.rplib) contains components and patterns following Digital Scotland Design System standards. This helps us to build prototypes for Scottish Government's various public services. All the components and patterns have been thoroughly tested for usability and accessibility.
Wait a minute, do I need a license to use this?
Axure RP has a free 30-day trial that you can use to try out the Design System Axure library. After that, you will need to purchase a license. There are licenses available for personal, team and enterprise use. Students or teachers can request a free license from Axure.
Ok great, now how do I start using this new Axure library?
Please find a simple step by step guide about the process.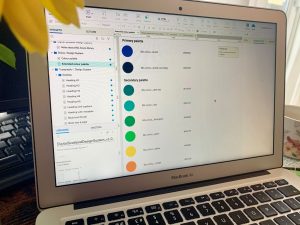 Are there any more updates? How will I be informed about the updates in the library?
This is our first release of the Design System Axure library, but we plan to continuously update the library to add in the components that we have in the backlog. Currently, we are working on finding the best way to inform you about future releases. So for now, please keep an eye out here for any future updates.
Lastly, just curious, why Axure? Why not Figma or other prototyping tools?
At Scottish Government, our Interaction design team uses Axure RP for their design work.
Axure is a powerful tool which we have used successfully to create, test and iterate on multiple prototypes for various public services.
Our aim is to have one common tool that helps us to focus and bring in a level of consistency around our designs. Also we have a friendly interaction design community that helps train new designers to build up their expertise through knowledge sharing.
Psst…just to let you know our design system team is working on the Figma library too so watch out this space for any updates on this!
Story of its creation…
This new Axure library was the result of some great collaborative effort. It was jointly created and is currently maintained by the Interaction design team from Digital Directorate and Social Security Directorate at Scottish Government, as part of their Design System collaboration.
Next steps…
We will be adding new components and patterns to this Axure library as soon as they are published on the Design System site. For any new releases/updates, you can either check the prototyping page or watch out for a new blog here.
If you have any feedback for Design System Axure library, please feel free to send an email to: designsystem@gov.scot
Happy prototyping!
Tags: Axure RP, Digital Scotland Design System
Comments