Digital
Finding public sector data
June 23, 2021 by Stewart Hamilton 3 Comments | Category CivTech, Data, Digital Scotland
Hi, my name is Shona Nicol, and I head up a team in the Scottish Government's, Digital Directorate, that covers technical data policy, from data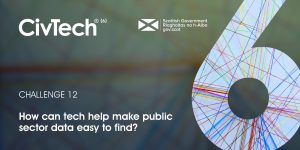 standards, open data to data innovation, and I'd like to share the details on a recent CivTech Challenge that I'm sponsoring.
The Challenge is 'How do we use technology to make public sector data easy to find' We want to help people find data using simple search terms without needing to know the specific name of the data, who owns it and where it might be published. And we want this process to be as user friendly as possible. For those of you who may be unaware of CivTech their purpose is to take problems that public sector organisations have and solve them in collaboration with innovative businesses.
For many of you reading this blog this challenge won't come as any great surprise, you're probably very used to spending more time trying to find the data than using it to help answer some of the biggest challenges facing Scotland. So what do I know:
• I know that the sources of data across the public sector that I need to find are growing faster than they can be classified/tagged so just pushing data standards isn't a solution on its own!
• I know that I need a tool that helps me find and understand what information is out there without me having to write complex queries
• That the data I need may be distributed across multiple sources, be available for only limited time, may come at a cost so I need a tool that helps me understand where the data is and who I should engage with
• That I saw some information that was interesting but, as I'm busy, I can't waste time searching again, I need a tool that learns what my needs are
• I know I need to understand are there others out there looking for similar data that I should engage with
• I know that we have a number of challenges facing Scotland from the Covid 19 pandemic to the Climate emergency and I need to build consensus around the sources of robust, high quality data that supports insights and associated actions. I need a solution that can help filter out the noise of misleading poor quality data.
If you'd like to know more about the challenge please take a look here – CivTech 6 – Challenge 12.
There is also a Question & Answer event that is scheduled for the 29th June at 3pm, giving you an opportunity to clarify any aspect of the Challenge. Details on how to attend can be found here – CivTech 6 – Challenge 12 – Q&A Tickets, Tue 29 Jun 2021 at 15:00 | Eventbrite.
The Question & Answer event is recorded and made available to those registered.
Tags: challenge, CivTech, Data, scottish government
Comments