Health and Social Care
Voices of community health and social care: Alison's story
June 15, 2023 by healthsocialcare No Comments | Category National Care Service
Over the course of the last year, we have been up and down the country filming for our Voices campaign. We have heard from people who use and work in community health and social care, listening to their experiences and how this has shaped their hopes for the National Care Service.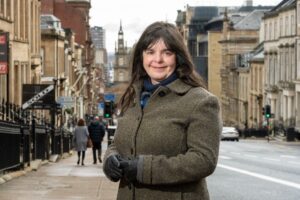 Alison is an occupational therapist working for the Royal College of Occupational Therapists. She is also Chair of the Allied Health Professions Federation (AHPF) in Scotland. She shared her experience with us, read her interview below.
Tell us about your role
My role as an occupational therapist is to help people live their best life. I help people regain their independence by supporting them to do the things that are important to them and the things they need to do to live their daily lives. It might be supporting someone who is recovering from a stroke, or I might explore ways to help people live independently in their homes for as long as possible. It's a marvellous job because I can really make a difference to people's lives. I've worked in hospitals, I've worked in people's own homes and I've worked with the third sector.
Tell us more about the AHPF
The AHPF is a collective group of Allied Health Professionals (AHPs): dieticians, occupational therapists, orthoptists, orthotists, paramedics, physiotherapists, podiatrists, prosthetists, radiographers, speech and language therapists, and art, drama and music therapists. These are professionals who can diagnose, treat and help people to manage their conditions.
AHPs will often work together – so an occupational therapist might work with a physiotherapist or a podiatrist to help a client understand and identify the things that might be holding them back in life and how these can be addressed. As a collective group, the AHPF has an excellent opportunity in Scotland to help people regain independence, be mobile, take care of themselves, and self-manage.
What are the biggest challenges you face in your role?
The biggest challenge I think is not seeing people as early in their journey as we would like. Perhaps someone is unsteady on their feet, and we see them after they've had a fall and broken their hip. Ideally, we would like to see them before they have that fall, when we can help put measures in place to prevent this.
In Scotland there's a lot of research around what's called the life curve. What we know from the life curve is that as we age, there's a pattern to how our abilities change. So, the first thing we can't do is we can't cut our toenails. Then we struggle to do our bigger shops, and then we struggle to climb stairs, right down to the end of the journey where we might struggle to get out of bed or get off the toilet. And often that's where occupational therapists are asked to get involved. While we can't change the ageing process, if we get involved sooner we can help people to stay better for longer. People can have a better life by starting their rehabilitation journey earlier.
What do you hope for from the National Care Service?
I hope that the importance of early intervention and prevention and the value of rehabilitation are recognised. As AHPs we believe everybody has a right to rehabilitation and I really hope that the National Care Service helps us move this forward and gives us the absolute right place in the system. We want to be involved in shaping services and be able to work closely with doctors, nurses, health practitioners, social workers and social care support staff supporting patients. It's that integrated team working together that gives people the best outcomes.
What are your hopes for future improvement?
Health care will save people's lives and rehabilitation gives people back their lives. Rehabilitation can be required at any stage of life, so its benefits can impact people of all ages. It might be attending school, it might be going to work, it might be enjoying leisure activities – but support to do all of the things that we want to do and need to do is really important. So, improving access to rehabilitation at the right stage will make a substantial difference to thousands of individuals and their families.
If you have experience of community health and social care, please register for our Lived Experience Experts Panel and help us design a National Care Service which meets the needs of everyone in Scotland.
We're also hosting a series of in-person and online forums this summer as part of the development of the National Care Service. You can find out more information and how to register your place on gov.scot/ncs.
Tags: Allied Health Professionals, lived experience, national care service, Social Care
Comments