Health and Social Care
Voices of community health and social care: John's story
June 27, 2023 by healthsocialcare No Comments | Category National Care Service
Over the course of the past year, we have been up and down the country filming for our Voices campaign. We have heard from people who use and work in community health and social care, listening to their experiences and how this has shaped their hopes for the National Care Service.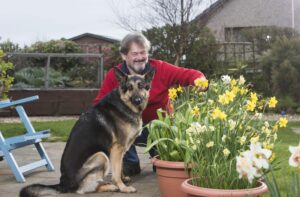 John has a condition called Usher Syndrome which means he has dual sensory impairment. He was born with hearing loss and his sight began to deteriorate in his late teens. He is a Participation and Training Officer for Deafblind Scotland which involves highlighting the communication and support needs of deafblind people and ensuring they can fully benefit from mainstream health and social care services.
Can you tell us more about your condition?
I have a condition called Usher Syndrome, meaning I was effectively born with a hearing loss and I later developed eyesight problems in my teens. My particular hearing loss is severe, so I've worn hearing aids from a very young age and I lip read. I have tunnel vision, with about 5% of my vision left, and I have a guide dog to help me get around and communicate.
How has being deafblind impacted your life?
My hearing loss meant I had to develop coping mechanisms to communicate and engage with other people from a young age. I went to a mainstream school and I managed to adapt, but it was difficult. Then when I was 19 my sight started deteriorating, and that was when my ophthalmologist diagnosed me with Usher Syndrome. I was told I would be totally blind by the age of 40, and there was nothing they could do. That sort of prognosis back then changed my life.
I was very active, very into sport and motorbikes. My identity was a biker if you like – long hair, leathers, heavy metal music – that was what I lived for. And at that time I was looking to become a vet, but of course how can a vet operate if they are totally blind? So obviously it had a huge impact on my lifestyle then.
Eventually I ended up moving up to Scotland where I did a degree in psychology, and I was involved in setting up Deafblind Scotland which I've been involved with for over 22 years now. But if it wasn't for that work, I would be in a very difficult situation because the work gives me a routine and I get out and about. Not having work would have a huge impact on my mental health and my own self-belief.
What sort of care and support do you currently receive?
I use the UK Government's Access to Work scheme which entitles me to 22 hours a week with a guide communicator. They're just there to support me when I need it and encourage my independence. I find working with computers very difficult so they might assist with that, or help me if I'm going anywhere. If I'm going into a meeting room, they will let me know who's in the room, where they're sitting and help me find a seating position which is ideal for my communication. They will let the Chairperson know that there's certain protocol within the meeting to help me follow and contribute.
What are the key challenges for those in the deafblind community trying to access support?
There is a significant issue with the assessment process not being geared towards dual sensory loss. So, the assessments for visual impairment won't accommodate a hearing impairment and vice versa. But dual sensory impairment and different levels of severity make a huge difference to how people communicate, and everyone is different. The assessments don't account for these complexities.
What are your hopes for future improvement?
I'd like to see a proper assessment system in place and care packages which take communication into consideration. Some deafblind people have carers turning up who aren't able to communicate and what often ends up happening is that the deafblind person is having to pay out of their own self-directed support for interpretation or a guide communicator. If this was considered at the outset, there wouldn't be that issue of having to take things to a tribunal or have reassessments.
We also need to see some sort of standardised pay scale for guide communicators to help encourage them into the sector and retain them. Very specialist skills can be required for those with complex communication needs, and we need to see this reflected in pay.
From an organisation point of view, I'd like to see the amount of work involved in tendering to provide services cut down. Right now it's a lengthy process and we have to apply across all the different local authorities. Streamlining the process and bringing it all together under one consistent system would make things so much simpler.
Most of all, I'd like the National Care Service to work in partnership with us. We have lived experience of deafblindness and we know what works well, what doesn't, what needs to improve. I hope the Scottish Government will work with us and listen with us so we can shape a service that meets the needs of the deafblind community, because communication is a human right for everybody.
If you have experience of community health and social care, please register for our Lived Experience Experts Panel and help us design a National Care Service which meets the needs of everyone in Scotland.
We're also hosting a series of in-person and online forums this summer as part of the development of the National Care Service. You can find out more information and how to register your place on gov.scot/ncs.
Tags: deafblind, lived experience, national care service
Comments