Marine Scotland
Big Bang prize for student work
March 21, 2012 by admin No Comments | Category Marine Scotland Science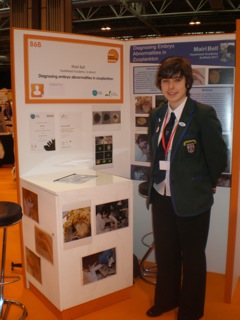 Mairi Bell of Hazlehead Academy wowed the judges at The Big Bang National Science & Engineering Fair in Birmingham last week with her project on diagnosing embryo abnormalities in Zooplankton, which form important components of marine food webs and changes in their abundance can assess the health of the marine ecosystem.
Mairi won the Intermediate Science & Maths prize which included a trophy, certificate and £1500.
Marine Scotland scientist John Dunn who was Mairi's mentor along with Dr Kathryn Cook, said he was absolutely delighted by Mairi's success at the Big Bang Science Fair, but not surprised.
"Mairi has been a delight to work with, and is one of the most focused and diligent young people, I have ever had the privilege to work with. Her good nature and questing mind, as well as her methodical approach to what was a very difficult project, ensured that she completed it on time and achieved excellent results, which will greatly help workers in this field.
It should not be forgotten that this project was not made up for Mairi, this was a genuine job which the laboratory and several other laboratories, mainly in Scandinavia needed to have done, and it is to her credit that she successfully completed it.
Our faith in Mairi's abilities has now been borne out by the fact that she won this competition, were she was examined by professional scientists in their own fields.
I really look forward to this young lady's future, as I am sure it will be a bright one based on her considerable scientific talent, and I only hope that we be able to employ her in Marine Scotland when the time comes."
Mairi's placement at Marine Scotland was organised and supported by the Nuffield Foundation Science Bursary Scheme. The Nuffield coordinator in Scotland, Dr Frances Chapman of STEM Inspire commented "I am thrilled with Mairi's success – she was competing against a large number of very high quality projects from all over the United Kingdom and she should be incredibly proud of her achievement."
Mairi worked with specimens collected at the Stonehaven Coastal Monitoring Site where weekly samples are collected and returned to the laboratory, allowing good working conditions with fresh samples and immediate access to the current conditions in the coastal environment.
Tags: Bing Bang, Nuffield, Stonehaven, zooplankton, zooplankton embryo development
Comments