Marine Scotland
Oceanographers hit the road with Mini-Tour
April 4, 2014 by Marine Scotland Communications No Comments | Category Marine Scotland general, Marine Scotland Science
For National Science and Engineering Week (14-23 March 2014), oceanographers from Marine Scotland hit the road with a mini-tour of Aberdeen and Aberdeenshire, taking their "All At Sea: The story of ocean drifters" workshop to six different primary schools.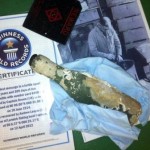 The workshop, which was developed by Bee Berx and Sarah Hughes, was first presented to Mile End primary school in October. Now things were getting serious, as the team aimed to present the workshop eight times over the course of four days, reaching more than 200 children in Primary 5-7, aged between 9 and 11.
During the workshop, which typically lasted 2 hours, the Marine Scotland oceanographers explained how ocean currents are measured; comparing the early techniques of drift bottles with more modern satellite tracked drifters and fixed point current meters. The story of how scientists used the 'message in a bottle' technique really captured the children's imagination and in a hands-on part of the workshop they got to see our record breaking bottle. Marine Scotland currently holds the Guinness World Record for the longest time a message in a bottle has spent at sea – 97 years and 309 days.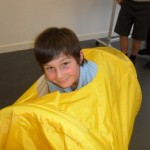 In another part of the hands-on workshop, the pupils were able to assemble a real-life Code-Davis drifter, the type Marine Scotland has recently used for validation of the Brahan surface current radar system. They were also able to investigate a 'holey sock drogue' with most of them quickly working out it was fun to crawl through, just like a play tunnel.
The children also enjoyed examining some parts of an Aanderaa current meter and most found it very amusing that the internal memory cards, which are almost the size of a house brick, hold so little data by today's standards: not even a single MP3 song.
During the workshop, the pupils discovered a little about the work of Marine Scotland and the importance of understanding ocean currents. By linking this to climate, the travelling habits of marine species, renewable energy and marine litter, the workshop also offered relevant links to many areas of the school curriculum. E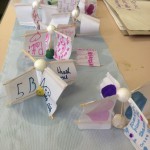 xamining the development of measurement techniques covered a bit of history and examining maps of ocean currents offered a chance to test their geography knowledge.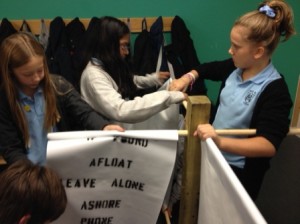 The workshop ended with a craft/modelling activity in which the children built and tested their own mini drifter.
This offered them a chance to work together and an opportunity to get creative by designing their drifter's sails. Marine Scotland scientists running the workshop were impressed by the enthusiasm and interest expressed by the children. Based on some of the questions, it might just inspire some of the children to consider a career in marine science.
Comments