Marine Scotland
Citizen Science Project – Can you help?
January 8, 2016 by Marine Scotland Communications No Comments | Category Collaborations, Marine Scotland general, Marine Scotland Science, Oceanography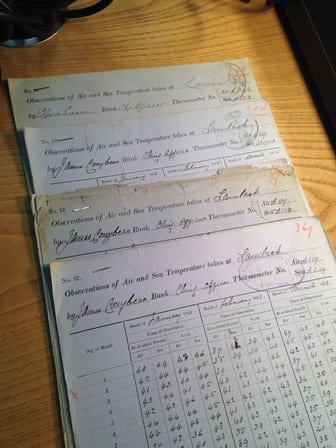 In the last few years, Sarah Hughes an oceanographer at Marine Scotland has discovered a large dataset of coastal temperature data that sits in the archives of the UK Meteorological Office but has not been entered into ocean databases. These are daily/twice daily observations of coastal temperature taken at numerous coastal sites around Scotland, usually from coastguard stations and lighthouses. Some of the records start in 1879 and continue for more than 30 years. These data will offer valuable evidence of the pattern of coastal temperatures more than 100 years ago which will be very useful to compare to present day observations at similar sites.
As these data remain on paper they are not easily accessible for scientists and Sarah, in collaboration with Dr Bill Austin has initiated a project with St Andrews University to try and recover these data from the archives. The project is currently being funded by MASTS and  is a graduate project at St Andrews University, the student involved is Sarah Knight. The aim of the project is to enter a sample of these data into electronic format, assess their quality and eventually make them available to all scientists. There is potential in future, to expand the project to many more stations in Scotland and indeed across the whole of the UK if the initial work suggests this is a valuable dataset.
The data, starting as early as 1879, only exist in hand written form on very delicate paper forms which cannot be automatically scanned. In October 2015, the team spent a few days at the Met Office archives in Exeter taking photographs of these records as the first step to getting the data typed in. In this early stage of the project, we are looking for volunteers to help type up the individual records into Excel format. You will be allocated a few sheets at a time to enter into a spreadsheet. It is not a difficult job and if you think you can help in your spare time then please get in touch with one of the people below:
Professor William Austin: wena@st-andrews.ac.uk
Dr Sarah Hughes: s.hughes@marlab.ac.uk)
Sarah Knight: srk3@st-andrews.ac.uk
Further Information:
Comments