Marine Scotland
MarCRF presents at the Challenger Society conference
September 19, 2016 by Marine Scotland Communications No Comments | Category Collaborations, Marine Collaboration Research Forum (MarCRF), Marine Scotland Science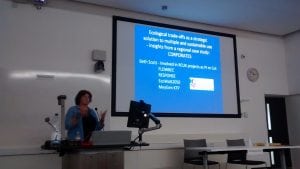 The Marine Collaboration Research Forum (MarCRF) was well represented at last week's Challenger Society 2016 Conference, with presentations featuring within the "Marine science for society" and "Drivers for patchiness and marine vertebrate dynamics" sessions.
MarCRF Research Fellow Jacqueline Tweddle presented on why we need to think about phytoplankton patchiness in marine management, and Beth Scott (pictured right) from the University of Aberdeen spoke about the CORPORATES project – Cooperative Participatory Evaluation of Renewable Technologies on Ecosystem Services. This follows a successful presentation of the same project at the Royal Geographical Society Annual Conference in London, by Jacqueline and Tavis Potts.
Jacqueline Tweddle,  in her capacity as co-organiser of the Marine Science and Policy Special Interest Group, also co-organised an Early Career Researcher (ECR) event at the conference which was attended by around 100 ECR members of the Challenger Society. She spent time talking to them about the options available to them to support marine management and policy with their science and  if you would like to be a member of this Group, please get in touch.
The conference dinner event was well attended by those from the University of Aberdeen and Marine Scotland, with Dr Bee Berx being awarded a Challenger Society Fellowship, in recognition of her achievements and future promise in her field. Congratulations to Bee!
 Jacqueline Tweddle (@jftweddle)
Further Information
The Marine Collaboration Research Forum (MarCRF)
Tags: CORPORATES, MarCRF
Comments