Marine Scotland
Results of a new diet study on seals around the Scottish coast
September 21, 2016 by Marine Scotland Communications No Comments | Category Collaborations, Marine Scotland general, Marine Scotland Science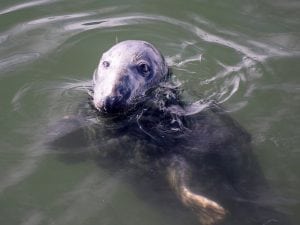 Three new reports have been published looking at the diet of harbour seals (Phoca vitulina) and grey seals (Halichoerus grypus) in Scottish waters.
The work, commissioned by Marine Scotland, and undertaken by the Sea Mammal Research Unit at the University of St Andrews, involved collecting scats seasonally from haul-out sites around Scotland over a 12 month period in 2010/11. Hard remains of prey (fish otoliths and cephalopod beaks) were recovered and identified, allowing scientists to assess diet composition of the seals. In total, 2,205 grey and 1,976 harbour seal scats containing hard parts were processed resulting in 68,465 and 65,534 otoliths and beaks respectively.
The main findings of the research include:
To the west of Scotland, harbour seal diet is highly diverse in nature and spread across a range of species, with no particular species dominant. In contrast, harbour seal diet in the North Sea (including Orkney and Shetland) where local harbour seal populations are in decline, is less diverse and heavily dominated by sandeels which are the primary prey throughout the year. A tentative conclusion of the reports is that declines in harbour seal numbers in northern regions may be linked to the decline in sandeel abundance.
Since the last assessment in 2002, grey seal diet has changed very little to the West of Scotland, but some marked changes were observed in the North Sea. The diet west of Scotland comprised about one-third sandeels and one-third gadid prey (particularly cod and ling) while in the North Sea the diet was dominated by sandeels (56%) with gadid prey (particularly cod and saithe) comprising about 20% of the total diet.
There is considerable seasonal and regional variation in the diet of both harbour and grey seals in Scotland, although there was no pattern to explain difference in diet between species in regions where harbour seals have and have not declined.
In the North Sea, the estimated consumption of cod (9,580 tonnes) by the total grey seal population represents about 5% of the estimated stock size (189,992 tonnes). In contrast, consumption of cod to the west coast of Scotland is much higher.
Further Information
Comments