Marine Scotland
MRV Scotia: Survey 1316S Programme
September 22, 2016 by Marine Scotland Communications No Comments | Category Marine Scotland Compliance, Marine Scotland general, Marine Scotland Science, Research Vessel Surveys
Duration: 10-23 September 2016
Gear:
 2 x Jackson BT 184 bottom trawl and wires;
 2 x 16" rock-hopper ground gear;
2 x ground-gear bag nets (centre section only);
2 pairs Morgere ovalfoil 1700 Kg trawl doors;
2 x Agassiz benthic sampling trawl;
Scanmar trawl sensors, bottom contact sensor and depth/temperature logger (high pressure DST);
VMUX towed video chariot with HD camera system and integrated CTD; and
Gravity core (supplied by BGS).
Objectives:
Visual survey of deepwater habitats using HD VMUX in the Faroe-Shetland channel, Rosemary bank and cold-seep site west of Rockall.
Trawl survey to document fish community from ~ 300 m to ~1800 m in the Faroe-Shetland channel and at Rosemary bank.
Sample benthic fauna using Agassiz trawl and trawl ground-gear bags in all areas.
Sample a range of species of fish and invertebrates for analysis of contaminants and sensory assessment.
Obtain sediment samples from FSC and cold seep site using gravity core
Trial use of Aquatracka.
Recover by acoustic release DOBO lander deployed in 2015 from 1800 m water depth east of Rockall.
General:
Scotia will work in three main areas that have special importance to conservation and/or are marine protected areas:
the northern area of the Faroe-Shetland Channel (FSC);
the Rosemary Bank; and
an area approximately 40 miles west of Rockall where a 'cold-seep' ecosystem was discovered in 2015.
Fishing and Agassiz trawl sampling operations will be, generally, carried out during daytime and visual surveys will be at night. The Agassiz trawl will be deployed from the hanger deck using the plankton crane in order to obtain benthic samples for validation of video transects. Gravity coring will be on an opportunistic basis. The gravity core will be deployed from the hanger deck using the plankton crane at select areas in the FSC in water depths up-to approximately 1300 m. Some flexibility in scheduling may be necessary to maximize the opportunity for visual survey during favourable weather conditions.
Water and plankton sampling will also be carried out at predetermined sites. Scotia will first head to the station 'FSC core site', shown on the map below, which is approximately 24 hours steam from Scrabster, and undertake TV and gravity core work. Upon completion here she will then head further north for deepwater trawling and further TV surveys. Passage (approximately 24 hours) will then be made south, stopping at a site just south of the Wyville Thomson ridge, for TV survey and Agassiz sampling. After this the vessel will continue to Rosemary Bank for a further two to three days' work. At this point, depending on weather conditions, a decision will need to be made as when to try to retrieve the 'whale bone' deep ocean benthic observatory (DOBO) lander as this will require a relatively calm sea state. This may be during or after sampling at Rosemary bank. If weather is not conducive to retrieval of the DOBO, Scotia will continue to the cold seep area west of Rockall for two days TV, Agassiz trawl and gravity core sampling. This would leave two days to recover the DOBO lander and, if recovered quickly, the possibility of further sampling and deepwater trawling in the same area.
Objective 1 – In the FSC the first TV transects will be made around 61°30" N in a water depth of approximately 1200 m. The aim is to assess the habitats associated with the polygonal faulted seabed. Further transects will be made further north at depths of 1000 m and then to search for sponge grounds at depth between 400-600 m. Observation in 2014 showed that at Rosemary Bank the sponge fields are deeper than 1200 m on the eastern flank of the bank. The aim is to determine the westward extent of the sponge fields with TV transects. At the cold seep site west of Rockall, a series of TV transects at approximately 1200 m will be made to establish the northerly extent of the cold seep ecosystem.
Objective 2 – Trawling will be carried out at stations along depth contours to depths of approx. 1,800 m (excluding those depths where the sponges are known to be present, generally 400-600 m in FSC and 1200-1400 m at Rosemary Bank). Transects will be made in the northern FSC and at previously trawled sites on Rosemary bank. All species of fish and invertebrates will be identified, weighed and measured. Biological sampling will take place concurrently. If time permits deepwater trawling (> 1600 m) may be undertaken on the eastern side of Rockall in the area adjacent to where the DOBO lander was deployed. Benthic fauna will be sampled simultaneously with trawling by using ground-gear bags. All species will be identified, counted and/or weighed.
Objective 3 – The Agassiz trawl will be deployed in all areas to a max depth of 1500 m on occasions when the video transects suggest interesting habitats that require validation with physical samples.
Objective 4 – A range of fish and invertebrates will be sampled for contaminant analysis and sensory assessment.
Objective 5 – The gravity corer (GC) will be deployed at the first TV survey site in the FSC. The aim here is to obtain samples of sediment from the polygonal fault system. Opportunistic GC sampling may also be taken at Rosemary Bank and samples will be collected from the cold-seep site west of Rockall.
Objective 6 – Opportunistic use of Aquatracka system between stations when time and conditions allow.
Objective 7 – Recover DOBO lander east of Rockall in favourable weather conditions.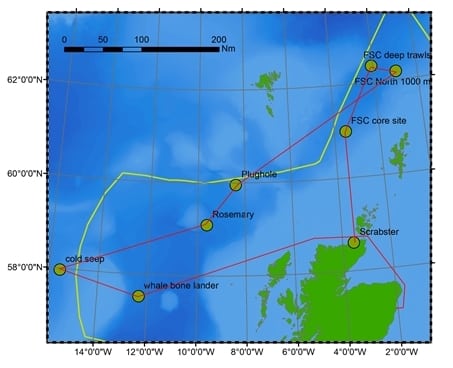 Map of 1316S survey area
Red line anticipated survey track starting from Scrabster. Main way-points indicated in circles. All survey work will be within UK waters (UK limits shown in green line) or international waters.
Tags: Faroe-Shetland Channel, Marine Scotland Science, plankton, Rockall, Rosemary Bank, sampling, Scotia
Comments