Marine Scotland
Fine-scale harbour seal usage mapping around Orkney
December 21, 2016 by Marine Scotland Communications No Comments | Category Collaborations, Marine Scotland general, Marine Scotland Science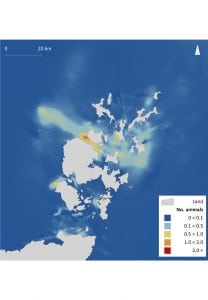 Marine Scotland has published a report on research commissioned from the Sea Mammal Research Unit (SMRU) to produce fine scale usage maps for harbour seals. With a spatial resolution of 0.6km x 0.6km, these provide very fine scale detail about the areas that are important to harbour seals. While there are existing usage maps for both harbour seals and grey seals, these are at a spatial resolution of 5km x 5km grid cells.
In areas such as Orkney and the Pentland Firth, fine scale habitat features, such as tidal flows, can lead to these broader scale maps not accurately capturing seal usage of some areas. Using a combination of telemetry data from tagged seals, and counts of seals from aerial surveys, SMRU have developed a model that uses known seal movements combined with habitat features to describe at-sea usage by harbour seals.
The work was funded by Scottish Government (Contract Research Fund) and Scottish Natural Heritage (SNH) and Marine Scotland anticipates that the maps will be useful for marine renewable developments, as well as for other marine spatial planning applications.
Further Information
Comments