Marine Scotland
A Very Fortunate Find
December 23, 2016 by Marine Scotland Communications No Comments | Category Marine Renewables, Marine Scotland general, Marine Scotland Science, Marine Scotland Surveys, Research Vessel Surveys
Recently, as part of the East Coast Marine Mammal Acoustic Study (ECOMMAS), some colleagues were out on the research vessel Alba na Mara to retrieve acoustic detectors; devices deployed and retrieved which help to build a picture of dolphin and porpoise population distribution.
During the trip they searched for one particular mooring, approximately 5 km east of Stonehaven, for over an hour but unfortunately couldn't find the mooring buoy with the 70 cm, 4 kg device attached. However, as luck would have it the very next day, a Marine Scotland Science Oceanographer found the missing cetacean detector on the shore at Aberdeen harbour mouth, whilst walking her dog. It seems very serendipitous that not only should the mooring wash up so close to the Marine Laboratory, 15 miles from where it was deployed, but that it was found by someone who knew what it was and to whom it should be returned.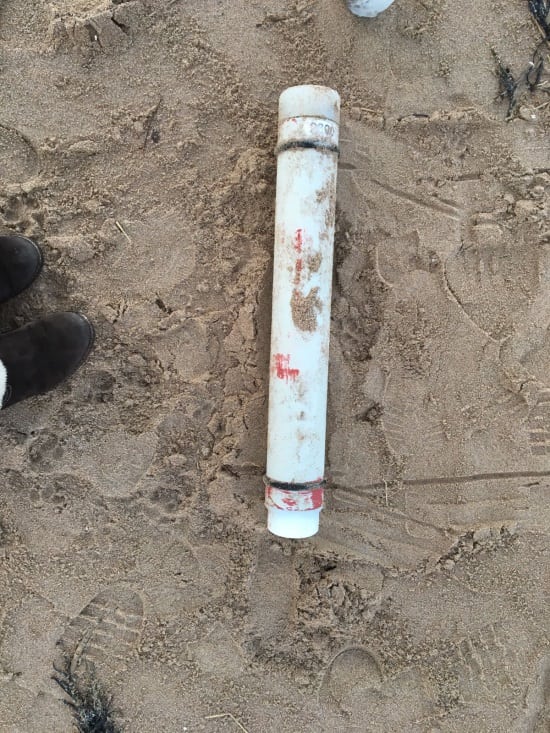 Despite this elusive detectors detour this autumn's array has been very successful, with relatively few equipment losses and will provide several months' worth of marine mammal monitoring data; allowing us to get a clearer picture of distribution and to see whether major construction projects have any effect on this.
Should anyone find a device similar to the one pictured please let us know via the following email address: acoustics@gov.scot
Further Information:
Tags: acoustic detectors, Alba na Mara, cetacean, dolphin, East Coast Marine Mammal Acoustic Study, ECOMMAS, marine mammal, Marine Scotland Science, Monitoring, porpoise, Stonehaven
Comments