Marine Scotland
Scottish Fishermen Land 1000th Tonne of Marine Litter
January 18, 2017 by Marine Scotland Communications No Comments
Our very own Professor Colin Moffat was asked recently to attend and give a short presentation at an event to celebrate the success of the KIMO UK's Fishing for Litter scheme. Supported by partners, including the Scottish Government, the Fishing for Litter scheme encourages skippers of fishing vessels to land litter they catch in their nets during their normal fishing activities.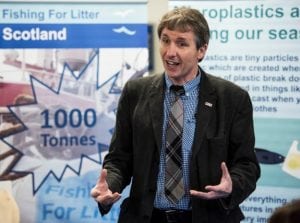 The bumper haul of 1000 tonnes of marine litter – enough to fill almost three Olympic-sized swimming pools – was collected by more than 210 fishing vessels from around Scotland's coast and landed at the 17 harbours participating in the project.
Fishing for Litter was introduced into Scottish waters by KIMO UK in 2005. KIMO UK's Chairman, Cllr Raymond Christie, said: "Reaching this milestone is a great achievement and I would like to thank all of the crews who took part for their fantastic efforts to help protect our precious marine environment and shoreline."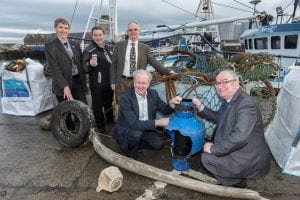 Marine litter, much of which is plastic, originates from many sources including a significant amount from the general public. If left in the sea, it would gradually break down into smaller pieces, which have the potential to impact the marine food chain.
Cabinet Secretary for Environment, Climate Change and Land Reform, Roseanna Cunningham, said: "Marine litter is a very serious issue both for Scottish seas and across the global oceans. It is shown to harm wildlife and the natural environment whilst also impacting on our marine industries through damage to subsea and coastal infrastructure, vessels and fishing gear.
"The Fishing for Litter project supports the Scottish Government's commitment to tackling the issue of marine litter through our Marine Litter Strategy and I would like to congratulate KIMO on their success in reaching this significant milestone. I would also like to take this opportunity to commend those fishermen who are participating and making a real difference in cleaning up Scotland's seas".
******************************************************
Further Information:
KIMO (Local Authorities International Environmental Organisation) is an association of coastal local authorities whose goal is to eliminate pollution from the Northern Seas. The organisation's members more than 70 local authorities representing over 6 million inhabitants in Denmark, Sweden, the Faeroe Islands, the Netherlands, Belgium, United Kingdom and Germany. KIMO UK is the United Kingdom network of the organisation.
Fishing for Litter is an active environmental response to the increase in marine litter found in the seas around Great Britain, Scandinavia and Western Europe. Through the participation of local fishermen, this project is designed to recover marine litter and raise awareness of the significant detrimental impact such waste can have on the marine environment and the potential threat to human health.
Tags: fishing vessels, KIMO, Marine food chain, marine litter, Marine Scotland, Marine Scotland Science, microplastics, MSS
Comments