Marine
Keeping an eye on the coastline with SCObs
January 23, 2017 by Marine Scotland Communications No Comments | Category Collaborations, Marine Directorate general, Marine Directorate Science, Publications, Scottish Marine and Freshwater Science report series
Scientists in Marine Scotland, along with a small group of voluntary citizen-scientists, have been monitoring the physics, chemistry and biology at multiple sites in Scotland's coastal waters since 1997. The sites monitored, shown on the left, include Millport, Mallaig, Loch   Maddy, Loch Ewe, Scapa, Fair Isle, Scalloway, Cromarty, East Coast and Stonehaven.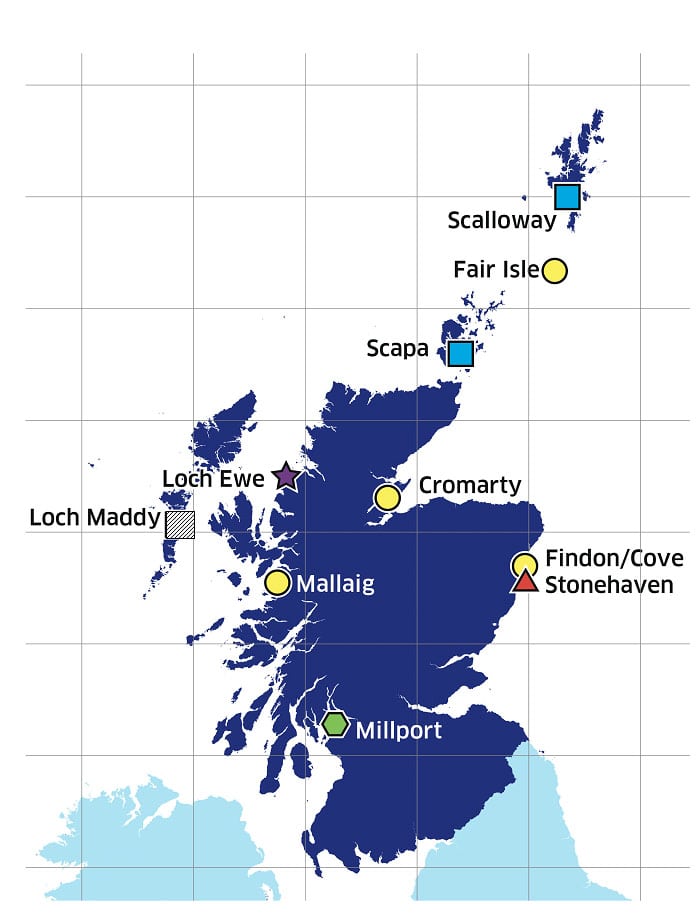 Consistent ecological time series of data such as this are very rare and interest in this data set is growing at both a national and international level, both for assessments of the status and health of our ecosystems as well as input to blue-skies research, such as within project proposals and studentships.
This work has recently been re-titled the Scottish Coastal Observatory (SCObs) because of the global importance of such coastal observations and Marine Scotland is working to increase the availability of information and data from this programme to external stakeholders including policy developers, academia and members of the public. As a first step, a three part report has been compiled to provide a basic description of the seasonality and variability of the main parameters examined between 1997 and 2013. These include temperature, salinity, nutrients, carbonate chemistry, chlorophyll 'a' phytoplankton, algal toxins and zooplankton. A rigorous quality check of all the data collected has been completed. These data are available to the public on request with a summary available for download from 20th Jan (doi: 10.7489/1761-1).
The SCObs report provides the first description of the sustained seasonality and variability that occurs from year to year within Scotland's coastal environment. As this time series increases in duration, the Scottish Government is placed in an optimal position to investigate the impacts of anthropogenic drivers such as climate change in its coastal marine ecosystem. Highlights from SCObs to date include:
(i) the first high frequency study of ocean acidification (i.e. carbonate chemistry including pH) in Scottish coastal waters detailing the variability on a weekly timescale
(ii) regional differences in temperature and salinity in Scottish coastal waters
(iii) nutrient data revealing the absence of anthropogenic enrichment at SCObs sites
(iv) plankton exhibit a strong interannual variability and seasonal descriptions of key zooplankton taxa  are presented for the first time from Scottish coastal waters.
By providing open access to a prime data set, Scotland is actively contributing to assessments of the North Sea area east of Scotland and parts of the Celtic Seas to the west. These are areas of fundamental importance to Scotland's fishing and expanding aquaculture industries. SCObs ensures that that relevant environmental data is available across these regions with the objective of providing high quality assessments of environmental health. SCObs data have already had a key input into assessments for the Water Framework Directive, Marine Strategy Framework Directive and OSPAR Eutrophication Assessment.
Dr Eileen Bresnan
More Information
Tags: climate change, phytoplankton
Comments