Marine Scotland
SEWeb – volunteers needed to test new Scotland's environment website
May 24, 2017 by Marine Scotland Communications No Comments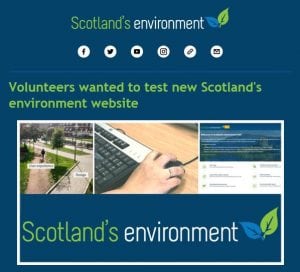 The team from SEWeb are looking for volunteers to help us carry out usability testing of the Scotland's environment website.
The Scotland's environment website brings together environmental information and data in one place so that it is easy to search, discover, view, analyse and interpret.
In June, a new look test version of the website will be launched. This is as a result of earlier user feedback that has helped us identify areas where improvements could be made. The site will be very much a work in progress, with more development planned, but we would like to gather feedback on the changes made so far.
To help us do this we are looking for volunteers to take part in online usability testing. This would involve completing a series of short tasks and letting us know how you got on. The tasks will involve testing out the new map tool, finding information and data on key environmental topics, navigation around the website and the general look, feel and design. You can choose to take part in one or more of the test tasks, with each taking 10-15 minutes.
Your help with usability testing will provide us with valuable feedback that will help us make further improvements to the website.
If you would like to volunteer to take part in online user testing, please get in touch with the Scotland's environment Team by using one of the links below to indicate which test tasks you would like to participate in:
Full instructions will be provided and all tests are carried out anonymously so responses will not be attributed to individuals. We look forward to hearing from you.
Comments