Marine Scotland
Freshwater Fisheries Open Day a success
June 5, 2017 by Marine Scotland Communications No Comments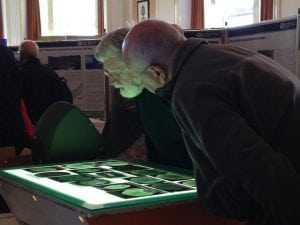 On 13th May, colleagues from the Freshwater Fisheries laboratory at Faskally in Pitlochry held an Open Day at the Atholl Palace Hotel in Pitlochry.
The day included and series of six talks that were held in the morning and afternoon, with more than 30 posters and films on show throughout the day. There were also practical exhibits including plankton from our outstation in Shieldaig, using ultrasound to determine the gender of trout, invertebrate identification, river mapping and fish scale reading.
The art of capturing trout by electrofishing was demonstrated in the Japanese Garden and radio tracking techniques were shown using dummy fish hidden among the trees. Genetics was simplified to a double helix of jelly babies and cocktail sticks and Bernie Martin's stunning new film of the salmon life cycle (7 years in the making) was shown every hour followed by lively question sessions with topics ranging from the technicalities of filming hatching fish to the evolutionary history of migration in salmon, and much in between.
Visitors included school children (entertained by custom-designed quizzes) anglers, amateur naturalists, fisheries managers, teachers, professional scientists and those others with a curiosity in what happens in the Lab by the loch. John Swinney, Deputy First Minister and the Cabinet Secretary for Education and Skills, and many other attendees enthused about their visits, and some who had come for an hour stayed for much of the day.
Photos from the day have been turned in to a short storyboard and  more pictures are available on the Marine Scotland Flickr site.
Further Information
Tags: family, Faskally, Free, Freshwater, fun, Open day, Pitlochry, science, Shieldaig
Comments