Marine Scotland
Message in a bottle
June 20, 2017 by Marine Scotland Communications No Comments | Category Marine Scotland Science
Many of us will have spent hours as a child drawing pictures or drafting letters to stuff in a bottle, to be sent on its way from the local beach; hopefully, to be found in a far-away place (or maybe even time) by a mysterious stranger. The "message in a bottle" conjures up romantic notions of a pen pal on distant shores for many children, but for ocean scientists it used to be considered a vital measurement tool.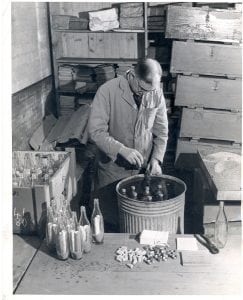 Some of our earliest discoveries of the ocean circulation around Scotland were made thanks to this simple piece of technology. From the early 20th century, scientists put hundreds of glass bottles out at sea, to be dispersed by the local ocean currents, and hopefully to be found by a fisher or beach comber and returned to the scientists. Inside, a card tempted the lucky finder to offer up information on where and when it was found, in return for a small reward – one shilling. At first, they were used to measure surface circulation, but soon bottles were weighted by sand or shot to help track the near-bed currents.
Of course, despite the many bottles released – at one point 3,000 were prepared by Rognvald Livingstone (pictured right) in one year – the vast majority were never found. Of the few that were, most were returned within weeks to months, but the odd one is still found today. On 23rd March 2017, Mr Leigh Casey found one of these drift bottles, number 248A (pictured below), in the catch of the Opportune (LK 209), a 25 m trawler skippered by Mr Ross Christie and based out of Scalloway (Shetland). They recorded the position of their find as 61° 09.3' N 001° 14.7' W, where the sea is around 200 metres deep. After talking to the crew, Mr Davie Riley – a fisheries technician at the NAFC Marine Centre in Scalloway – contacted the Oceanography Group at Marine Scotland Science in Aberdeen to find out more about the bottle.
Despite the original notebooks still being kept in the library at the Marine Laboratory, each find still requires some sleuthing to find out where and when the bottle was originally released. At first glance, there didn't appear to be any record of bottle 248A in the notebooks. Luckily, the print-run numbers on the post cards could shed some light: the cards were originally printed in 1906, but were used in bottles released up until the next print-run in 1914. Bottle 248A was released on 16 May 1911 at a position just 5 miles from where it was found. These drift bottles, designed to track near-bed currents, often became trapped on the sea bed, and the more recent discoveries a century after release have often been very close to the initial release position.
For this bottle, the journey home lasted 105 years and 311 days; unfortunately still not quite the Guinness World Record for the "oldest message in a bottle". Marine Scotland previously held this honour, but the Marine Biological Association (UK) won the record in 2015 with a bottle that spent 108 years and 138 days at sea. Scientists at Marine Scotland remain hopeful of regaining the record, and with thousands of bottles still out at sea, it almost seems inevitable.
Tags: drift bottle, message in a bottle, MSS, oceanography
Comments