Marine Scotland
ECOMMAS makes some more noise
October 17, 2017 by Marine Scotland Communications No Comments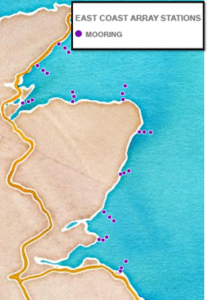 The East Coast Marine Mammal Acoustics Study (ECOMMAS) is a long-term, on-going study into how underwater noise generated by offshore industry impacts the distribution of dolphins and porpoises in Scottish coastal waters of the North Sea. Acoustic recorders (C-PODs and SM2Ms) are deployed at 30 sites across 10 locations along the east coast, extending from Latheron in the outer Moray Firth to St Abbs in Berwickshire. They record underwater noise and count echolocation clicks to detect dolphins and porpoise. They have been deployed to collect data over a 7 month period, beginning in Spring, since 2013.
This work will allow Marine Scotland Science to gain a clearer picture of the distributions harbour porpoise and dolphin species, to help us understand whether major construction projects have any effect on this.
Marine Scotland has recently published the 2013-16 CPOD data, presented as detection-positive days (DPD) and detection positive hours (DPH) for porpoise and dolphins species. The data has also been uploaded into Marine Scotland's National Marine Plan Interactive (NMPi) website where graphical representations of detections for each year, across both species, can be seen.
Further Information
For those of you looking for data on particular mammals:
Tags: acoustics, dolphins, mammals, noise, renewables, research, seals
Comments