Marine Scotland
Crab and Lobster Fisheries in Scotland: Results of Stock Assessments 2013 – 2015
October 16, 2017 by Marine Scotland Communications 2 Comments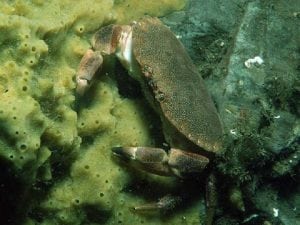 Today, Marine Scotland published the latest in its Scottish Marine & Freshwater Science series – Crab and Lobster Fisheries in Scotland: Results of Stock Assessments 2013 – 2015.
Crabs and lobsters are important species for the Scottish fishing industry. Although the total quantity landed is small relative to finfish landings, crab and lobster attain high prices. In 2015, the combined crab and lobster species landings of 16,000 tonnes had a value at first-sale of over £29M (Scottish Government, 2016). The fishery is long established and was traditionally an inshore mixed species creel fishery, however, improved technology and the ability to store and transport live animals in the 1980s led to the development of an offshore fishery for brown crab. This, and the demand from new markets, has resulted in a substantial increase in the Scottish landings over the last thirty years.
The most important crab species landed in Scotland, in terms of weight and value, is the edible or brown crab (Cancer pagurus) which is found all around the Scottish coast. The second most important by landed weight is the velvet swimmer crab (Necora puber). Velvet crabs are often caught in the inshore creel fishery with lobster and brown crab and very few fishermen fish solely for velvet crab, although some target the species at certain times of the year.
The lobster most commonly landed in Scotland is the European lobster (Homarus gammarus), a valuable species for which seasonal prices can be as high as £20 per kg at first sale. Other lobsters landed include the spiny lobster or crawfish (Palinurus elephas), squat lobsters (family: Galatheidae) and the Norway lobster (Nephrops norvegicus), also known as langoustine or Nephrops.
Creel fishing in Scotland continues today as an inshore fishery around most of the Scottish coast, with vessels setting their gear within a few miles of the shore. The fishery is typically a mixed species fishery with both crab and lobster being targeted, albeit with some seasonal and regional variation. Most creel vessels are small, less than 10 m in length and with only one or two crew, and make short day trips to haul creels. However, a number of larger vessels now take part in an offshore fishery to the north and west of Scotland.
The report presents the results of Scottish regional brown crab (Cancer pagurus), velvet crab (Necora puber) and lobster (Homarus gammarus) stock assessments carried out by Marine Scotland Science (MSS) based on length cohort analyses (LCAs), which is applied to commercial length frequency data for the period 2013-15.
Further Information
Tags: assesment, crab, lobster, shellfish, stock, Survey
Comments