Marine Scotland
Meet our scientists – Dr Coby Needle
November 21, 2017 by Marine Scotland Communications No Comments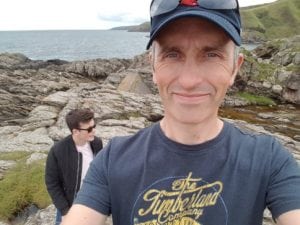 Today is World Fisheries Day, so what better day to introduce you to our Sea Fisheries Programme Manager, Dr Coby Needle!
Who are you and what do you do?
I am Dr Coby Needle, and for the past two (and a bit) years I have been the Sea Fisheries Programme Manager at Marine Scotland Science, based in the Marine Laboratory, Aberdeen. My "science" work centres on fisheries stock assessment and advice, including management strategy evaluations and the development of stock assessment methods, and in recent years I have also delved into fleet dynamics and understanding why fishermen do what they do. This all complements my "management" work – leading a team of around 60 people does take a lot of time and energy, but I enjoy helping folk do what they are trying to do, as well as directing the science that the Programme is involved in. It certainly isn't dull!
Why is what you do important?
The Sea Fisheries Programme, and by extension Marine Scotland Science, is the principal source of fisheries management advice in Scotland, and the work we do is therefore crucial to the development and maintenance of sustainable fish stocks and fisheries for the foreseeable future. This starts with sampling and data collection at fish markets and on board commercial and research vessels, and goes through many analysis, modelling and consultation steps to the final annual advice for policy colleagues in Edinburgh, London and Brussels. Of course, I only play a small part in this, but it's good to know that the work I am doing is truly applied and can make a positive difference to people's lives and the environment in which we live.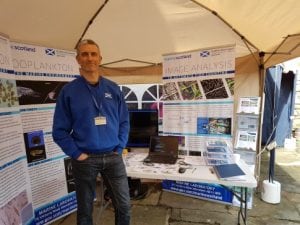 What's your career path been – how did you get here?
I was born in Adelaide, and we moved to Scotland when I was still quite young – this was when the cheapest way to come to Europe was still by sea, so my first seatime was a three-week jaunt on an Italian cruise liner. I was brought up in Edinburgh, but moved to Aberdeen for my BSc in Maths and Computing. A brief stint at Strathclyde for an MSc in Applied Maths intervened, but no-one ever truly leaves Aberdeen and I came back to do my MSc summer project (with Bill Turrell), get married (to Jillian) and have our children (Lucy and Lewis, now 22 and 19 respectively). I was an itinerant mathematician and worked relatively short-term contracts at the Institute of Terrestrial Ecology in Glassel, and the Department of Geography at Aberdeen University, before coming back to the Lab for good in the Population Studies Group under Phil Kunzlik. And here I've been ever since (including a part-time PhD at Strathclyde), with working life becoming slightly more complicated (but always enjoyable) and the offices slightly larger as time goes by.
If you weren't doing this, what do you think you'd be doing instead?
I love sport of all kinds, and have become obsessed with running, swimming, football, cricket, golf, tai chi, skiing, squash and cycling (amongst others) over the years. Sadly I've only ever been moderate at best at any of them, but if I had found a sport I was good at then I would like to have tried becoming a professional. Alternatively, and this is still an option – the life of a golf greenskeeper does appeal!
What's your favourite fishy fact?
It's not really a fishy fact, but when you think about it, the thermal properties of water are quite amazing – specifically, that the density of water increases as temperature falls to around 4°C before reducing again to the extent that ice floats. Without this weird feature, there would of course be no life on Earth – which seems like a handy coincidence…
And what about one fun fact about you?
I love to play the guitar (the one in my office isn't just for show…), but the only times I have played in public have been the Lab Christmas band, and one year for the Lab Quiz (some of you might remember I would mangle some popular toons, and then the quizees had to name the bands and songs). So in my retirement, if the greenskeeper job doesn't work out, I can always take up busking.
Further Information
Tags: renewables, research, science, STEM
Comments