Marine
Using genetics to map salmon run times
December 14, 2017 by Marine Scotland Communications No Comments | Category Freshwater Fisheries, Marine Directorate Science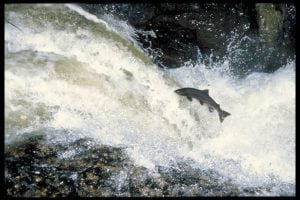 A key role for Marine Scotland Science is to provide the information to help to effectively balance short term economic gain and environmental conservation. In the case of Atlantic salmon this balance is managed through Conservation Regulations. The principle is that the economic benefits of harvesting by fisheries are allowed only where stocks are sufficiently healthy.
At present, Conservation Regulations, using best available information, are generally discharged on a spatial scale of river catchment. However, previous work by our Freshwater Fisheries Laboratory (FFL) has shown that river stocks may include a number of salmon populations occupying discrete geographic areas and that have adapted to local environmental conditions. There is a risk then that averaging across a catchment may fail to protect weak populations or, conversely, lose opportunities to exploit strong populations.
Our previous work has shown that salmon from different regions of a river catchment tend to return during different months of the year. Hence, there is the potential for managing at a sub-catchment level by allowing killing of fish only during certain months. To assess population strength of a run time group it is necessary first to establish the relationship between return month and geographic region of the catchment where spawning occurs. This requirement has been achieved in some rivers by tracking movements of salmon fitted with radio transmitters, a process that is highly resource intensive. However, FFL have now developed a genetic tool that has the potential to map return run times across wide geographic ranges rapidly and at much reduced cost.
In this case, small tissue samples can be taken from juvenile salmon throughout a catchment and specific genetic signatures can be used to infer the time of year that their population returns. Strength of the local population can be estimated by juvenile salmon production models that are in an advanced stage of development and hence it is anticipated that it may be possible to relate run time to population conservation status and to manage accordingly. Trials are now underway to test the approach.
Eef Cauweiler
Molecular Population Geneticist
Further Information
Tags: conservation, research, Salmon
Comments