Marine
Meet our scientists – Berit Rabe
December 19, 2017 by Marine Scotland Communications 2 Comments | Category Marine Directorate general, Marine Directorate Science, Uncategorized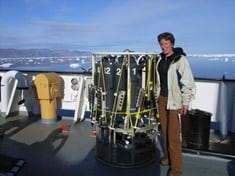 Who are you and what do you do?
I am Berit Rabe and I am an inshore physical oceanographer in the oceanography group within the Environment Monitoring and Assessment programme at Marine Scotland Science. I mostly work on a multi-disciplinary project related to sea lice and wild fish interactions using oceanographic field data and hydrodynamic model outputs to understand the dynamics and circulation of sea lochs and the coastal regions around Scotland. This specifically includes studying forcing mechanisms and estuarine circulation in Scottish sea lochs and evaluating connectivities between different areas with regard to pathogen dispersal. I am also giving advice to Marine Scotland's licensing and operations team with regard to marine applications that involve dumping and dredging or inshore civil engineering projects for example. I also participate in the group's sampling work at Stonehaven and in the Faroe-Shetland-Channel and am the scientist in charge during our group's December hydro cruise. Recently I have become involved in the Athena-Swan self-assessment team to apply for Bronze status.
Why is what you do important?
It is important to understand the underlying physical conditions within sea lochs and in the coastal areas to manage pathogen dispersal and to sustainably manage the resources within the marine environment. This physical oceanography work is the basis for multi-disciplinary studies. The sampling work contributes to our long-standing time series and Athena-Swan aims to improve gender equality.
What's your career path been – how did you get here?
I studied physical oceanography at the University of Hamburg/Germany, enjoying the requirement to work on research vessels for six weeks during the degree (my very first cruise actually investigated the circulation in the Faroe-Shetland-Channel, so I am back to my roots with Scotia trips to the same region). While working on my masters I also did a qualification to scientific diver and worked on underwater archaeology in Lake Constance. After graduating I moved to Canada to work at the Bedford Institute of Oceanography in Dartmouth as a visiting scientist. From there I moved south to the US to work on my PhD at the University of Delaware, but the research was focussed on regions further north, in the Canadian Arctic Archipelago. I investigated freshwater fluxes from the Arctic Ocean through Nares Strait, one of the straits connecting the Arctic to the North Atlantic. I spent time on Canadian coastguard icebreakers and also a year at the Oregon State University on the west coast of the US. After receiving my PhD I moved to Aberdeen to start at the Marine Lab.
If you weren't doing this, what do you think you'd be doing instead?
I would probably be working as an archaeologist, with a focus on underwater surveys, or be a travel writer.
What's your favourite fishy fact?
The existence of Narwhals (as fishy as it gets for a physical oceanographer).
And what about one fun fact about you?
I have travelled to 46 countries and would like to see every country in the world someday.
Further Information
Tags: renewables, research, science, STEM
Comments