Marine Scotland
EQUATING women in Science and Engineering
March 1, 2018 by Marine Scotland Communications No Comments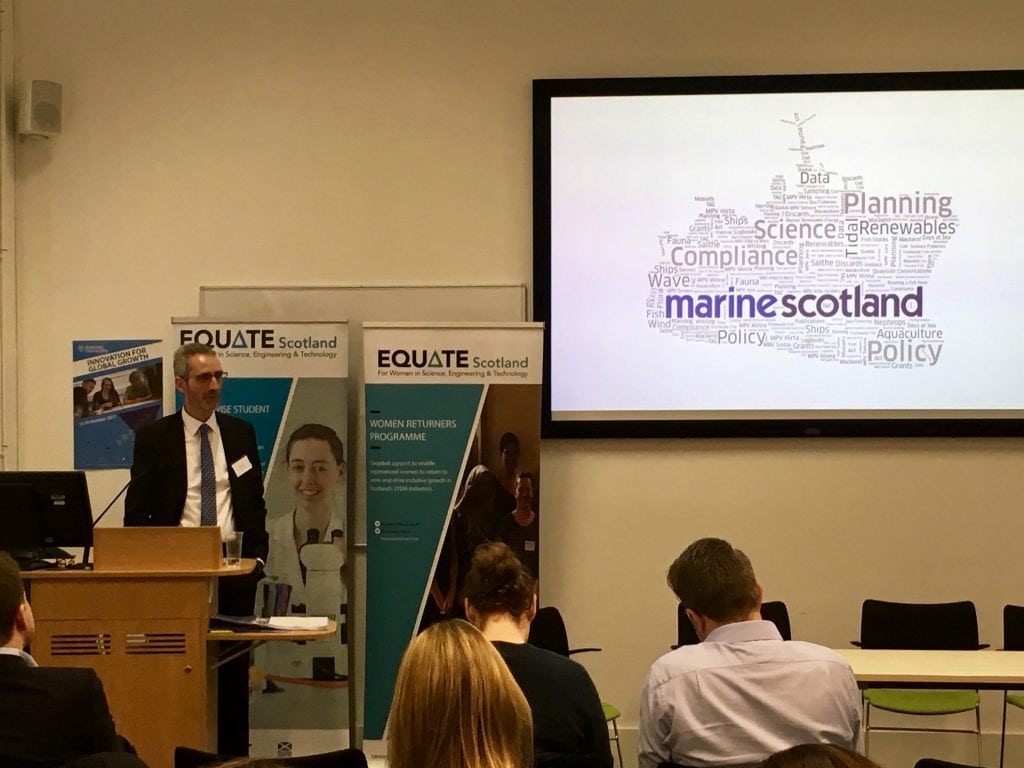 In February, our Science IT manager Dave Keay (pictured right) was invited to speak at an event at Abertay University run by EQUATE Scotland and entitled 'Building the Talent Pipeline'. The half day event was aimed at promoting opportunities for women in Science and Engineering and was focussed on two aspects: women undergraduate work placements under the CareerWISE programme and women looking to return to the workplace after a career breaks. The event was attended by employers, university teaching staff and past and potential participants.
As Dave explains:
Marine Scotland Science has participated in the CareerWISE scheme since 2015 and has taken on a number of undergraduate placements, originally in IT and more recently in marine biology. The Scottish Government is extremely supportive of CareerWISE and has provided funding for the initiative, which it sees as an important pillar of its strategy for meeting its target of achieving equal representation of women throughout all levels in the public sector.
Since 2015, Marine Scotland Science IT has provided placements to students involved in IT operations, GIS and software development. The placements last for 12 weeks over the summer period and, importantly, students are paid a living wage during that period. The students gain relevant work experience and gain an insight into the workings of a highly diverse and vibrant organisation. Feedback from students that have been placed with Marine Scotland has been unequivocally positive and as employers, it gives us the opportunity to engage with some fresh ideas and energy as well as gaining valuable additional resource for a fixed period of time."
Also speaking at the event was Anastasi Moutaftsi who was able to offer a student's perspective. Last summer Anastasia worked with one of our scientists, Dr Neil Campbell, on CCTV data analysis. She reflected positively on her placement in Marine Scotland Science and the confidence she gained from 'being treated like a scientist.'
Marine Scotland Science will continue to participate in CareerWISE in 2018 with a further two placements.
Further Information
Tags: careers, STEM, women in science
Comments