Marine
Turning MUSE-ings in to action
September 18, 2018 by Marine Scotland Communications No Comments | Category Collaborations, Marine Directorate general, Marine Directorate Science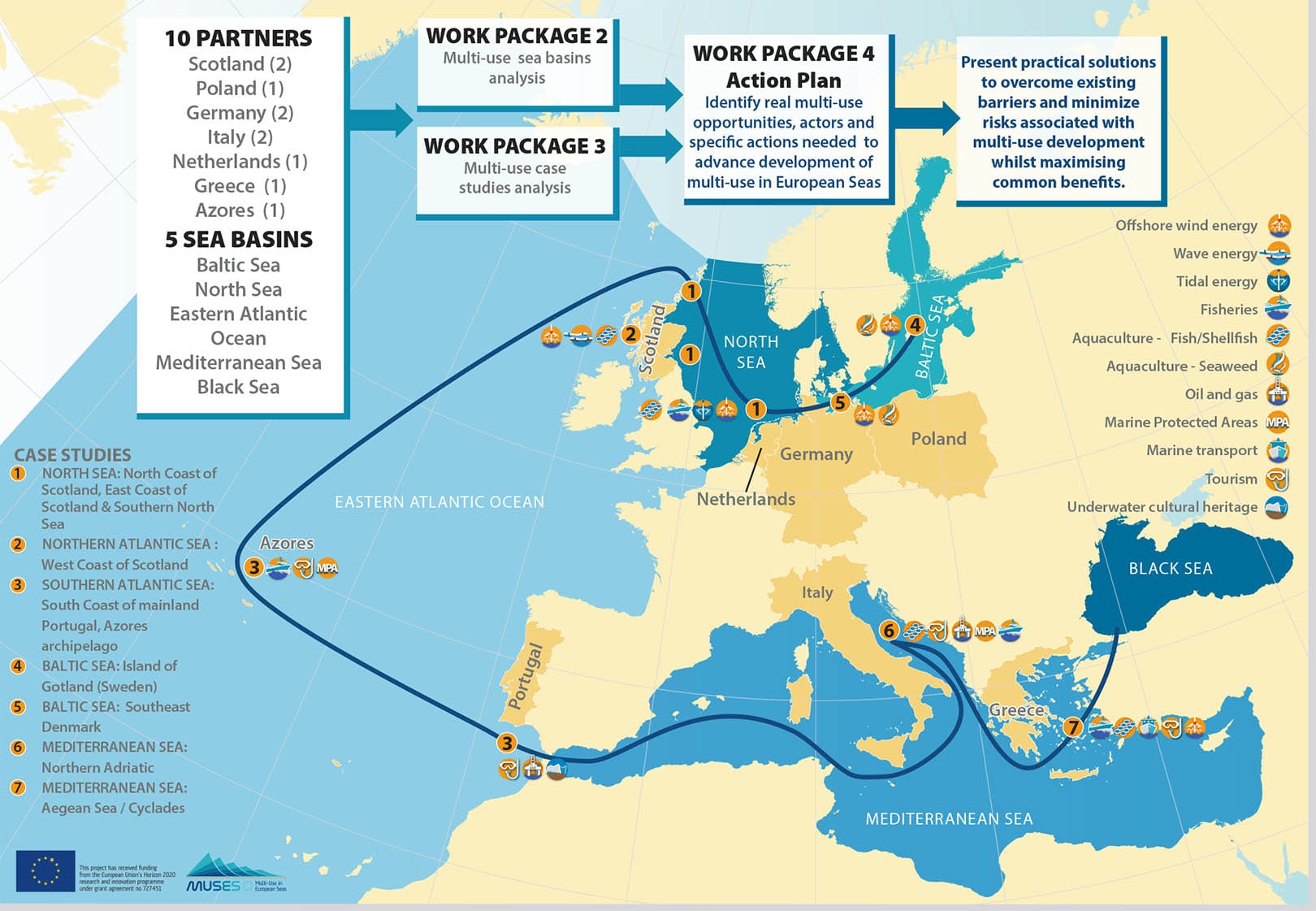 Increasing demands on ocean resources and the associated conflicts between competing ocean users has made it crucial for us to carefully consider how we use our seas. Over the last two years, the Multi-Use in European Seas (MUSES) Project, led by Marine Scotland, has been researching the concept and the real life practicalities of "multi-use" in the five European sea basins – Baltic Sea, North Sea, Mediterranean Sea, Black Sea and Eastern Atlantic. This represents a radical shift from the concept of exclusive resource rights to the inclusive sharing of resources by one or more users.
Drawing on a comprehensive evidence base including in-depth regional and case study analysis, complemented by active engagement with relevant stakeholders in each sea basin, MUSES has developed an Action Plan to help make the future multi-use development in European Seas a reality. The Action Plan suggests practical solutions for overcoming regulatory and other non-technical barriers (including finance, insurance and licencing procedures), as well as how to minimise risks associated with multi-use development.
The Action Plan itself will be presented at the MUSES final conference, which is being held in Brussels on October 10th. The conference will provide a platform for those with an interest in blue growth to consider possible solutions for advancing multi-use development in Europe, and will offer attendees an opportunity to learn more about multi-use opportunities in specific areas, such as offshore renewable energy in combination with different types of aquaculture, or tourism sector in combination with underwater cultural heritage or fisheries (pescatourism).
Further Information
The MUSES team includes a total of ten European partner organisations across Europe and further information on the project, as well as downloads of the project's public deliverables, can be found on the MUSES website. There's also a mailing list that you can join for project updates, a twitter feed or you can email: ms.musesproject@gov.scot.

Tags: blue economy, Marine Planning, MUSES, spatial planning
Comments