Marine Scotland
Researching Blue Carbon – meet Hannah Lee
November 16, 2018 by Marine Scotland Communications 2 Comments | Category Blue Carbon, Collaborations, Marine Scotland general, Marine Scotland Science
A new Scottish Government funded research programme into Blue Carbon began earlier this year as part of a commitment in the 2017-2018 Programme for Government.  The current focus revolves around measuring the ability of various habitats to sequester carbon, understanding how it is stored for the long term, and building an evidence base on the effects that human activities may have on these process.  To support the programme, the Scottish Government has sponsored a number of PhD students and Marine Scotland has just established the Scottish Blue Carbon Forum (SBCF), which will be made up of the students and supervisors of the studies, as well as external stakeholders and Scottish Government climate change colleagues.
In this series of blogs, we will be introducing you to each of the students and letting them tell you more about their work.
Next up, Hannah Lee.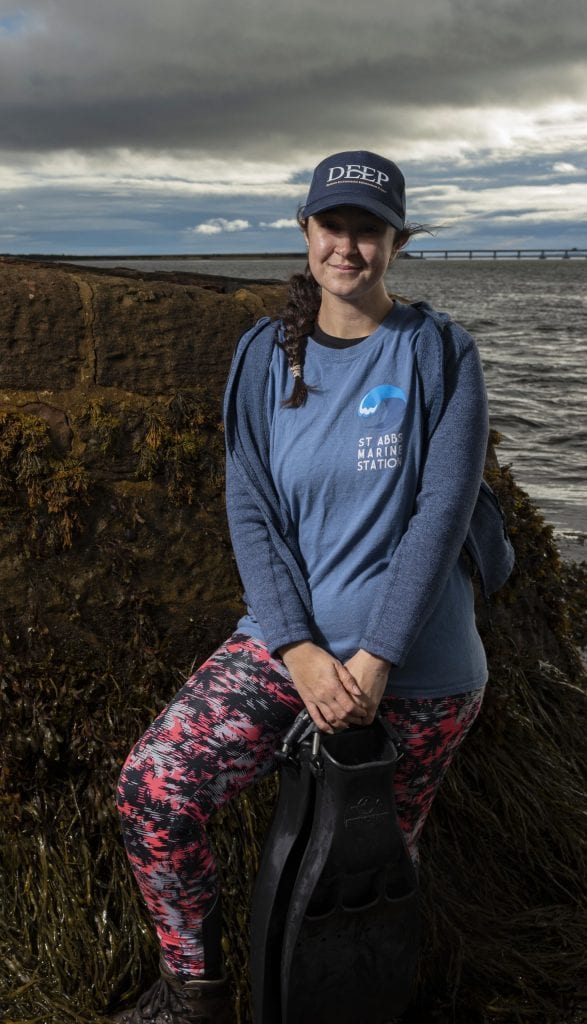 My name is Hannah Lee, I have a background in Marine Biology and Zoology, having loved all things ocean since a very young age! The focus of my PhD, is looking at ecosystems service provision by shellfish, specifically bivalves, in terms of water quality management and the function of shellfish beds as blue carbon stores, otherwise known as: Blue carbon of shellfish beds – Unlocking the vaults of biogenic reefs.
To understand the function of a shellfish bed as a blue carbon store I am working to identify the 'jigsaw pieces' that recycle carbon within a bed. These components can be broken down into biodeposition (waste material production), respiration (energy and CO2 production) and calcification (the growth of the animal's shell). By developing our understanding of the real-time rates of the for mentioned we can begin to understand how beds capture, release or store carbon. In addition to this, I will also be surveying shellfish beds to estimate the amount of carbon currently stored, by comparing this to our real-time measurements I will try to understand how shellfish carbon stores change over time.
Having been in post for 6 months, I am currently in the process of building a strong background to my work, planning my studies and conducting pilot experiments to better understand the methods I plan to use. As a PhD student working with the Dornoch Environmental Enhancement Project (DEEP), I have also been conducting reconnaissance diving trips in the Dornoch Firth to understand the working conditions of the dive sites.
A primary aim of my research is to consider the 'shellfish carbon jigsaw' at a seasonal scale, running experiments every few months. My research will be conducted through experiments both in the field (by diver deployment in the Dornoch Firth), and in the lab (at St Abbs Marine Station). 'Biodeposition units' (pictured) will be deployed into the Dornoch Firth to look at real-time biodeposition rates, this can then be compared to the carbon we observe stored in a known bed. In the near future, I will also be deploying an experiment to look at growth and calcification of the native oyster and the blue mussel under different flow conditions in the Dornoch Firth. This will involve a range of techniques from carbon processing and photography to setting shells in resin and sectioning them to look at internal growth bands to estimate growth rates, to understand the relationship between growth and release of CO2 over the deployment period.
Meanwhile, facilities at the St Abbs Marine Station will be utilised on a seasonal basis to capture the variation in the three components of the jigsaw across the year. Looking at calcification, respiration and biodeposition rates using natural water from St Abbs Bay, under realistic flow settings. Improving our understanding of bivalve beds as blue carbon stores allows us to calculate a worth of such ecosystems when considering restoration and management.
Hannah Lee
Further Information
Tags: blue carbon, calcification, research, St Abbs
Comments